As an experienced mother, I've had the privilege of observing my kids play, learn, and grow. Through the years, we've collected quite an assortment of toys, but few have proven as captivating as magnetic tiles.
These are a great STEM toy that promotes creative play, critical thinking, and an understanding of basic engineering concepts.
Of all the brands of magnetic tiles on the market, Tytan Tiles and Magna-Tiles have stood out to us for a handful of reasons, both being excellent options.
But how do they compare?
In this article, I'll detail the differences and similarities between Tytan Tiles and Magna-Tiles to help you decide which brand suits your needs best! Let's dig in!
Magna Tiles vs Tytan Tiles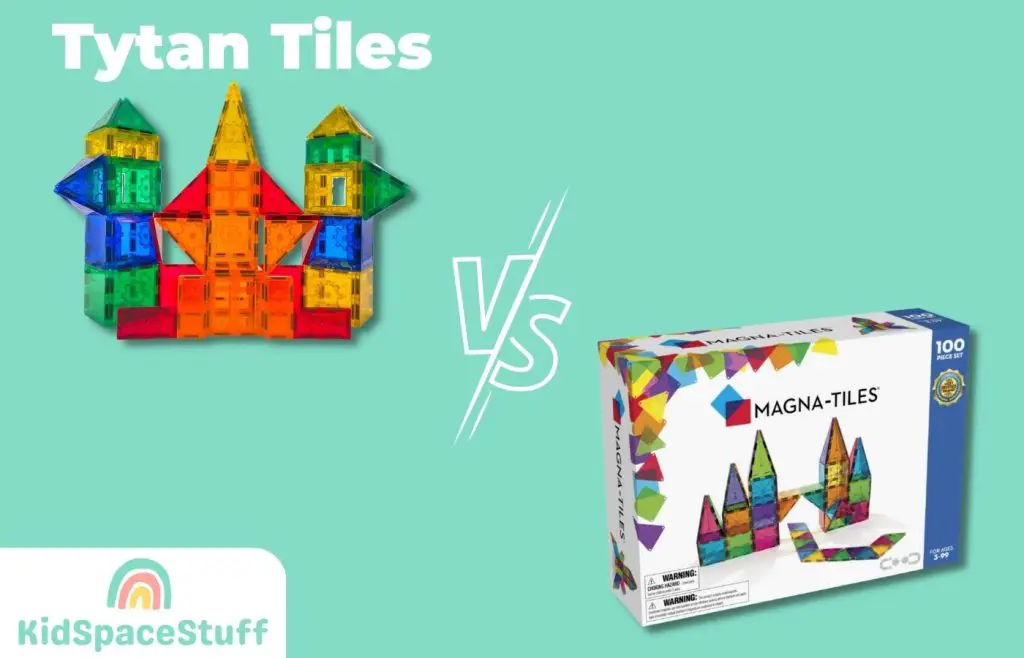 Tile Size
When it comes to tile size, both Magna-Tiles and Tytan Tiles offer a variety.
The standard square tile measures three inches on each side for both brands. However, the actual play surface differs slightly due to the thickness of the borders.
Magna-Tiles have thicker edges, reducing the effective play area but adding to their robustness. Tytan Tiles have thinner borders, maximizing the usable play surface.
Depending on the child's age and creativity level, the size difference may impact their building possibilities.
Magnet Size and Strength
The strength of the magnets and their placement significantly impact the building experience. In this regard, Magna-Tiles take the edge.
They employ larger and stronger magnets that are positioned on the tile's edges. This ensures the tiles stick together firmly, allowing for more stable and complex constructions.
The magnetic strength of Tytan Tiles, on the other hand, is a bit less, and their magnets are smaller. However, they still perform quite well under normal play conditions.
Safety
Safety is my top priority as a parent, and I am sure it's yours too.
Both Magna-Tiles and Tytan Tiles are designed with child safety in mind. They have rounded corners and edges, reducing the risk of injuries during play. Furthermore, their magnets are secured with metal rivets to prevent them from falling out if a tile breaks, a feature that adds an extra layer of safety.
Both brands are also made from non-toxic, BPA-free plastic, making them safe for your little ones.
Quality
In terms of quality, both brands fare pretty well.
Magna-Tiles are renowned for their premium quality and durability. They are built to last, surviving the rough and tumble play that is typical with kids. They are also less prone to scratches and maintain their shiny appearance for a long time.
Tytan Tiles, while not quite matching the quality of Magna-Tiles, are still quite durable. They might exhibit signs of wear with prolonged use, such as scratches or slight fading, but they generally hold up well under normal play conditions.
Weight
When it comes to weight, the tiles from both brands are light enough for little hands to handle, move, and connect with ease. However, Magna-Tiles are slightly heavier due to their larger magnets and thicker plastic. The extra weight contributes to their robustness and stability when building structures.
Tytan Tiles, being lighter, are easier for younger children to manipulate, but their structures might not be as stable.
Price
Price is often a deciding factor when choosing between brands.
Generally, Magna-Tiles are more expensive than Tytan Tiles.
The higher price point is due to their superior quality and brand reputation. On the other hand, Tytan Tiles provide a more affordable option. While their quality might be a notch below that of Magna-Tiles, they offer great value for money.
Looking for other STEM toys? Check out the video below!
Compatibility
One fantastic feature of magnetic tiles is their compatibility across different brands.
I was pleased to find that both Tytan Tiles and Magna-Tiles are compatible with each other.
So, if you decide to start with one brand and then expand your child's collection with the other, the tiles will work together seamlessly. This compatibility extends the possibilities for building and play.
FAQs
Are Tytan Magnetic tiles the same as Magna-tiles?
While Tytan Tiles and Magna-Tiles are similar in that they are both magnetic tile sets, they aren't identical. Differences lie in areas such as quality, magnet strength, tile size, and price. Magna-Tiles are renowned for their higher quality and stronger magnets but are pricier. Tytan Tiles, on the other hand, offer a larger play surface and more affordability.
Are Tytan tiles compatible with Magna-Tiles?
Yes, Tytan Tiles and Magna-Tiles are compatible with each other. This means you can combine tiles from both brands during play, expanding the scope of what your child can create. Compatibility across brands is one of the great aspects of magnetic tile toys, allowing for more diverse and imaginative constructions.
Final Thoughts
So, which brand of magnetic tiles are better?
Both Tytan Tiles and Magna-Tiles have their strengths and weaknesses.
Magna-Tiles stand out for their higher quality, durability, and stronger magnets, while Tytan Tiles are more affordable and offer a larger play surface.
The choice between the two will largely depend on your child's age, interests, and your budget. Either way, magnetic tiles are a fantastic toy that will provide hours of creative and educational fun for your children.
Wondering how other magnetic tile sets stack up? Check out my other comparisons!
KidSpaceStuff is a site dedicated to helping parents find the best interior design, activities, and inspiration for their kids.