As a mom of several wonderful, bustling children, our home is always filled with joy, laughter, and, of course, an array of colorful stuffed animals.
Each one has its own unique personality, or so my kids would have me believe.
I've been tasked with the crucial responsibility of naming these adorable stuffed friends more times than I can count. From the cherished teddy bear that my oldest son keeps tucked under his arm each night, to the whimsical unicorn my youngest daughter totes everywhere, each stuffed animal forms an important part of their lives.
But finding the right names for stuffed animals can be a challenge!
That's why I put together this list of stuffed animal names that can give you the inspiration you need. Let's dig in!
How to Choose a Name for Your Stuffed Animal?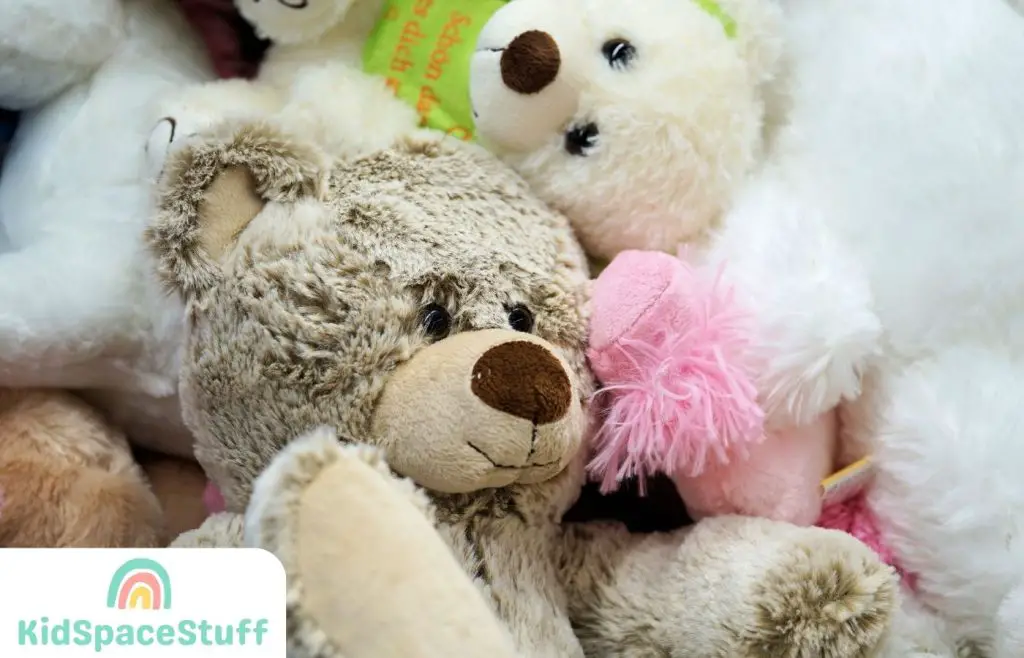 Start by considering the stuffed animal's characteristics.
Is it a traditional teddy bear, an exotic animal, or perhaps a favorite cartoon character? Use these traits as inspiration. A fluffy brown bear could be named "Cocoa" or "Chestnut", while a stuffed elephant might suit a name like "Ellie" or "Peanut."
Next, think about your child's interests and favorite things.
If they're fascinated by outer space, names like "Star" or "Comet" could be fitting. If they love a particular book, movie, or TV show, consider names from that universe.
Lastly, remember that names can be changed.
If a name just doesn't seem to "stick," or if your child's interests shift, there's no harm in renaming the stuffed animal. After all, the most important thing is that your child feels a connection to their plush friend.
For example, Squishmallows come with names, but you can always change it!
Did you know you can also personalize your stuffed animal? That's right! Check out the video below!
Male Stuffed Animal Names:
Alfred
Biscuit
Charlie
Duke
Eddie
Finn
George
Harry
Ike
Jack
King
Lucky
Mason
Noah
Oscar
Prince
Quill
Rufus
Scout
Teddy
Ulysses
Vinnie
Wilfred
Xander
Yale
Zack
Hugo
Felix
Max
Ash
Shadow
Blue
Rover
Hunter
Peanut
Rocky
Rex
Spike
Ace
Jasper
Buster
Diesel
Leo
Benji
Oliver
Cody
Sam
Otis
Chester
Bruce
Boomer
Murphy
Chip
Miles
Baron
Ranger
Zeus
Rusty
Rocco
Tank
Winston
Romeo
Monty
Patches
Tucker
Smokey
Gizmo
Baxter
Cooper
Woody
Bailey
Sparky
Harley
Dash
Moose
Bandit
Whiskey
Bentley
Major
Guinness
Bubba
Snowball
Jet
Female Stuffed Animal Names: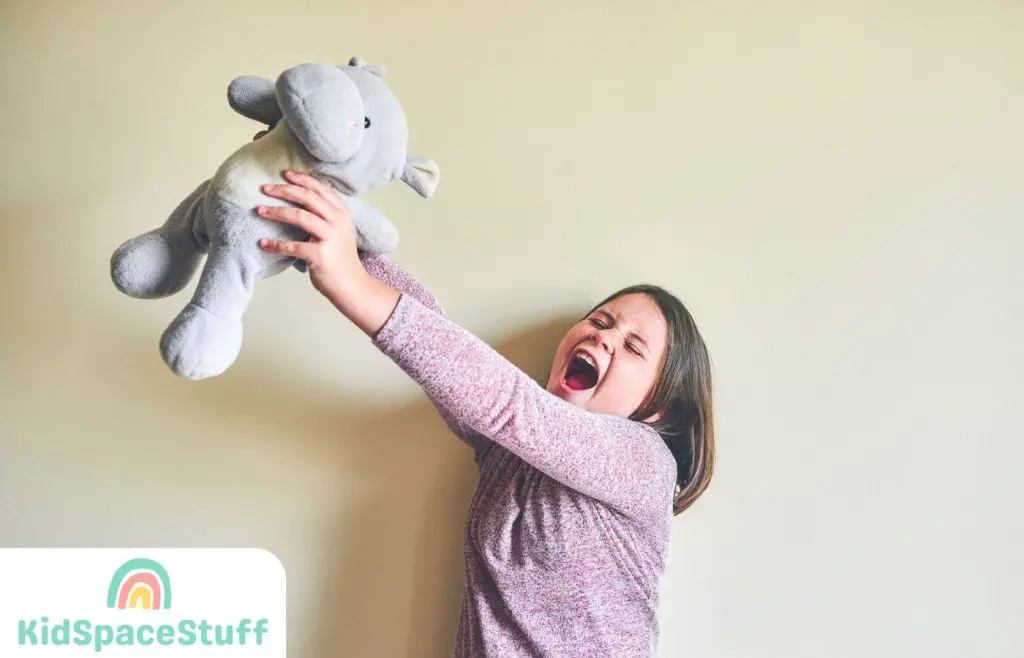 Alice
Bella
Cuddles
Daisy
Ellie
Fluffy
Grace
Honey
Ivy
Jewel
Kiki
Lily
Muffin
Nala
Olive
Pixie
Queenie
Rosie
Snowy
Trixie
Ursula
Velvet
Willow
Xena
Yara
Zara
Abby
Betty
Cocoa
Dolly
Fawn
Ginger
Hazel
Iris
Joy
Kelsey
Lulu
Mimi
Nutmeg
Opal
Pearl
Ruby
Sunny
Taffy
Una
Violet
Winnie
Yummy
Zoe
Pumpkin
Sugar
Sky
Tootsie
Bubbles
Cherry
Peaches
Buttercup
Mocha
Pippin
Fifi
Lolly
Pippa
Clover
Giggles
Misty
Twinkle
Cupcake
Poppy
Sparkles
Candy
Honeydew
Mopsy
Rainbow
Butterbean
Marshmallow
Pookie
Snuggles
Twizzler
Bonbon
Jellybean
Funny Stuffed Animal Names: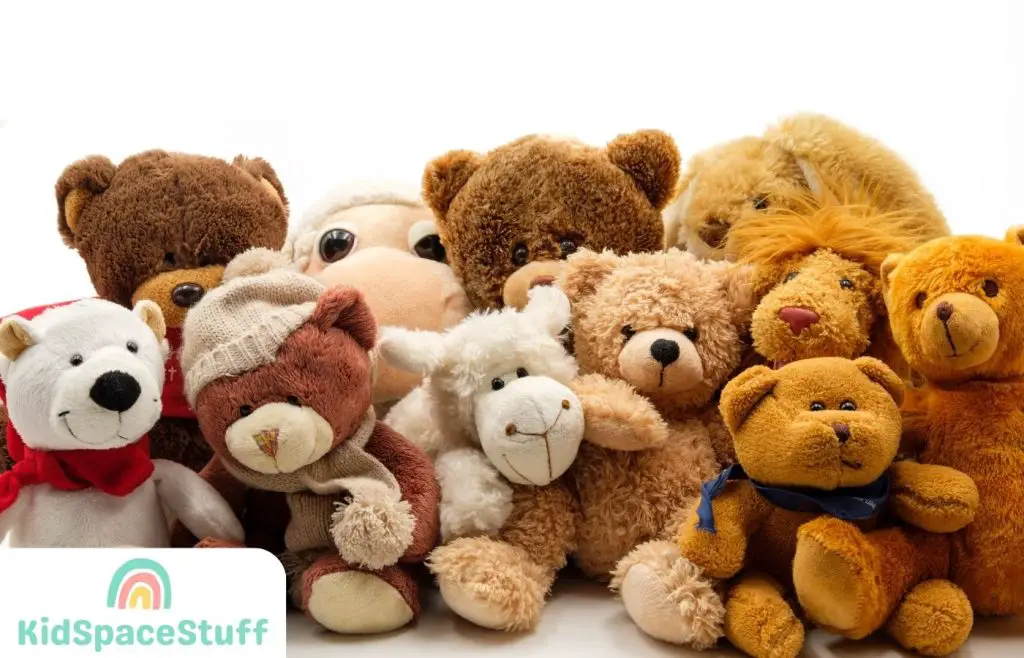 Sir Fluffington
Lady Floofalot
Captain Cuddles
Wobble Waffles
Tickles McPaw
Snugglebutt
Mr. Snore-a-lot
Professor Wigglesworth
Donut Sprinkles
Pickle Paws
Miss Moo Moo
Fluffykins the Great
Muffin Tops
Whisker Doodle
Bubblegum Bloop
Popcorn Fizz
Pancake Flapjack
Jellybelly Wobble
Sir Wag-a-lot
Puddin' Toot
Count Wigglebottom
Dizzy Twizzles
Squishy McFluff
Bubbletoes
Princess Purr-a-lot
Boogie Woogie
Fuzzy Wuzzy
Yawnasaurus Rex
Sir Hops-a-lot
Cuddle Muffin
Tooty Booty
Rumble Tumble
Snoozy Q
Goofball Gizmo
Snugglebunny
Squeezy Peasy
Wiggly Piggly
Bumblebee Bop
Gigglesnort
Huggable Haggis
Boop the Snoot
Wiggle Bum
Fizz Pop
Miss Quackles
Puffy Fluffles
Zippy Zoom
Snorlaxative
Noodle Nugget
Potato Patootie
Squeezy McSquishface
Squabble Bobble
Hip Hop Pop
Jiggly Puff
Slumber Bumble
Bouncy Biscuit
Belly Rumble
Fumble Grumble
Poofy Puffin
Dizzy Dimples
Dozy Doo
Jitterbug Jamboree
Puffy Pufferson
Sir Sleeps-a-lot
Grouchy Grizzly
Tickly Tummy
Doofy Doodle
Whisker Tickler
Pricklepants
Jolly Wobbler
Tummy Rumbler
Gobble Wobble
Puffy Pudding
Bubble Bath
Fizz Wizz
Clumsy Wumsy
Snooze Cruise
Pickle Tickle
Sleepy Pie
Mumble Grumble
Pudgy Wudgy
Tootie Fruity
Cuddlebug
Whisker Biscuit
Rumble Tummy
Squishy Wishy
Doodle Doo
Noodle Doodle
Final Thoughts
If you've just picked up a new stuffed animal for your child, you know that naming it is the next step.
Remember, there's no right or wrong when it comes to naming these cuddly friends.
The best names for stuffed animals are those that hold meaning and spark joy in your child's heart. So whether you choose a classic, whimsical, or totally out-of-the-box name, the most important thing is that it brings a smile to your child's face.
KidSpaceStuff is a site dedicated to helping parents find the best interior design, activities, and inspiration for their kids.