Raising a gaggle of curious and creative children can be both a joy and a challenge. One minute you're marveling at their inventive play, the next you're tripping over mountains of toys that have inexplicably multiplied overnight.
So, when it comes to toy selection, us moms are always on the hunt for something that not only encourages our kids' creativity and learning but is also durable, easy to clean, and justifies the space it takes up.
Enter the world of magnetic building sets: two of the most popular brands being Magformers and Magna-Tiles. But what are the differences and which are better?
In this post, I'll compare these popular magnetic tile brands to help you decide which are best for your child. Let's dig in!
Comparing Magformers vs MagnaTiles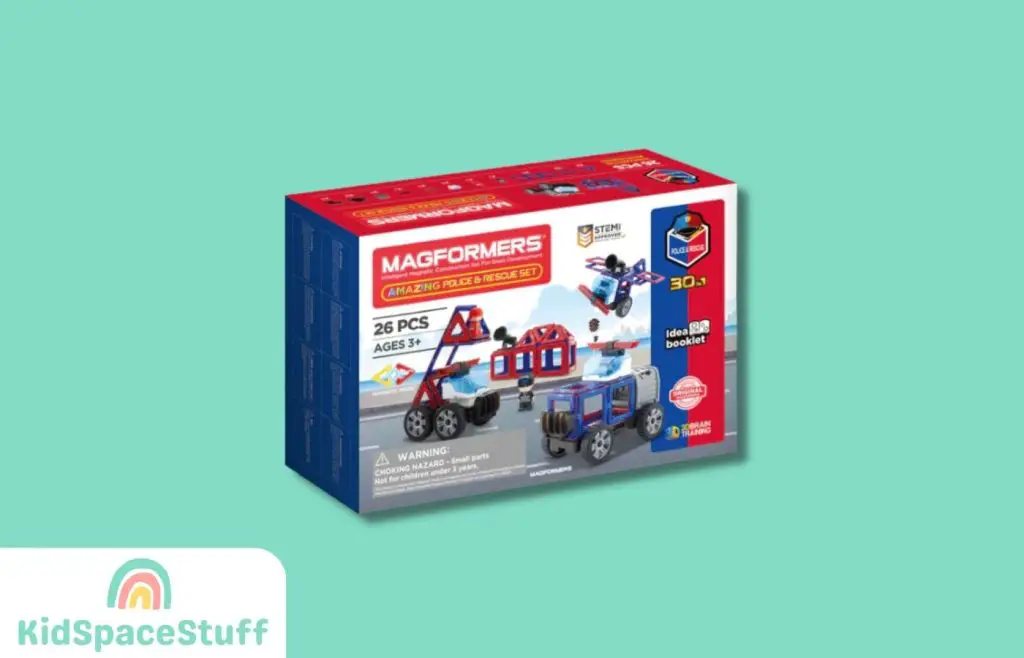 Design and Shapes
You'll first notice that Magformers and Magna Tiles differ mainly in their magnet design.
Magna-Tiles use 3 or 4 magnets along each edge, while Magformers have a unique single circular magnet positioned in each tile on the edges.
When it comes to the actual tile shapes, Magformers feature an open-end design with rounded sides, which means they can't stand up on their own. On the other hand, Magna-Tiles have flat sides, allowing them to stand independently.
It's hard to give one magnetic tile brand the edge in this category as it's more of a personal preference!
Need some inspiration on what to create with Magna Tiles? Check out the video below!
Compatibility and Options
While exploring these two magnetic tile brands, I found that Magformers aren't compatible with other brands due to their unique magnet design.
So, if you're planning on mixing and matching tiles, you might want to keep this in mind and go with Magna tiles.
Creative and Educational Benefits
I think both Magformers and Magna-Tiles offer great creative and educational benefits for kids. They encourage imaginative play, spatial thinking, and problem-solving skills and can help them learn colors among many other things. The diverse shapes and colors available in both brands also help in promoting creativity.
This category is another tie!
Durability
Durability is a significant factor when it comes to children's toys, and between Magformers and Magna-Tiles, I've observed quite a bit from my own little crew's relentless play sessions.
Magformers, with their plastic frames and secure internal magnets, have held up well in our household. They've survived falls, jumps, and the occasionally overzealous toddler's clutches. They're also fairly easy to clean – a definite bonus!
On the other hand, Magna-Tiles, despite their larger surface area, have proven to be impressively sturdy. These tiles have survived countless building sessions, and even a few dramatic topplings. One small drawback we've encountered is that scratches can show up more visibly due to their translucent design.
Both of these are high quality magnetic tiles that should last for years.
Safety
Both Magformers and Magna-Tiles have become favorites in our home, and from a safety perspective, I'm relieved to say that both brands have been remarkably reliable.
Magformers are made with round edges and their magnets are safely sealed within the plastic, minimizing the risk of swallowing. Magna-Tiles, on the other hand, are larger with a flat design, making them harder to swallow, but they do have slightly sharper corners that might concern some parents for the youngest of builders.
Nevertheless, over the years, none of my children have had any safety issues with either of these sets. But as with any toy that includes small parts, supervision is key, especially for children under 3.
Price
It's worth mentioning that Magformers tiles are on the pricier side compared to Magna-Tiles and other brands – but not by a ton.
These are both going to cost around $1 per tile.
However, you might find the higher price justified by their quality and unique design.
Unique Features and Accessories
Magformers, with their distinctive hollow-center design, are all about 3D creations. The variety of shapes, from squares to pentagons and hexagons, truly stirs the imagination. Plus, the various themed sets—like carnival, dinosaurs, or space travel—add a charming storyline to playtime.
Magna-Tiles, on the other hand, inspire larger-scale, architectural constructions. Their solid, flat pieces allow for towering structures, and the translucent colors create a stunning visual effect when backlit. There's something incredibly satisfying about seeing a colorful Magna-Tiles skyscraper against a sunny window!
Both brands offer wheels and other unique add-ons, but I must mention that the Magna-Tiles' doors and window pieces were a hit in our house, adding a new dimension to play.
Check out the video below to learn more about Magformers!
Pack Variations
Magformers offer an incredible assortment of themed sets.
From space odysseys to jungle safaris, princess castles to racing tracks, there's a set to spark any child's imagination. The expansion possibilities seem endless, and every new set brings a fresh wave of excitement to our playroom.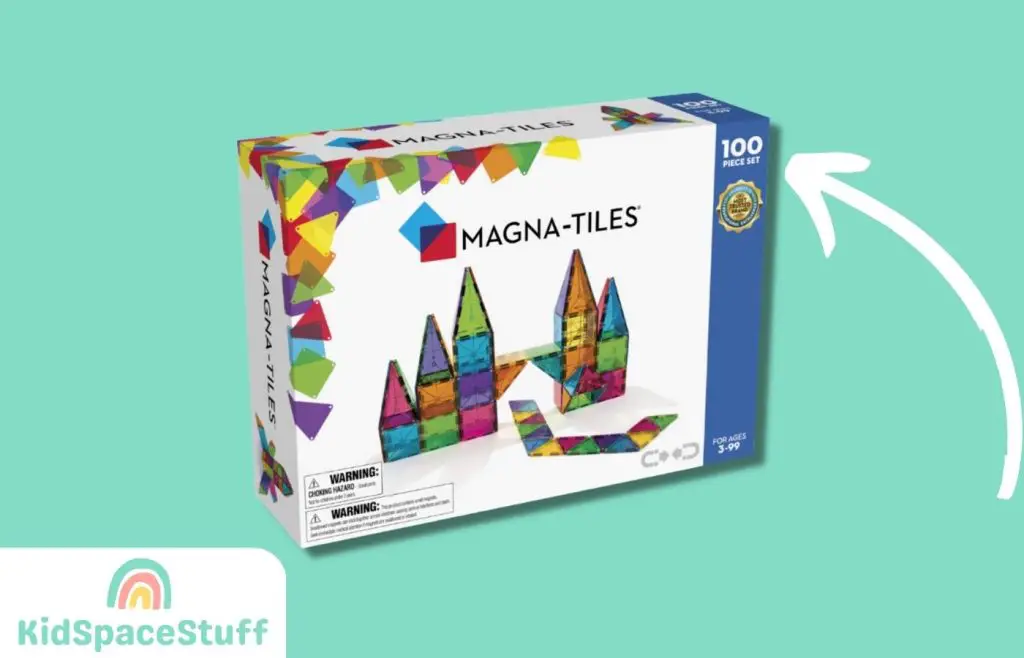 Magna-Tiles also have a broad range of sets available.
Although they don't offer as many themed sets as Magformers, they have an impressive variety of shapes, colors, and accessories like windows, doors, and car bases. The clear and solid colored sets also provide a beautiful aesthetic aspect to the structures my kids build.
While both brands offer a myriad of choices, if your little ones are captivated by themed play, Magformers might hold a slight edge. However, for variety in shapes and aesthetic appeal, Magna-Tiles are a brilliant option.
Frequently Asked Questions
Do MagnaTiles work with Magformers?
I found out that MagnaTiles and Magformers are not compatible due to their different magnet designs. MagnaTiles have 3 or 4 magnets along each edge, while Magformers use a single circular magnet in each tile. Magformers' magnets are on the outer edge of each tile which doesn't line up with other tiles. Because of this, you cannot connect them together.
What is the recommended age for Magformers?
When it comes to the recommended age for Magformers, you can consider them suitable for children ages 3 and up. These magnetic toys encourage creativity and spatial awareness, making them great for kids to play and learn with. Just remember to supervise younger children, as small magnets can be a choking hazard if they come loose.
Final Thoughts
So which magnetic tiles are better?
In my home, the crown goes to Magna-Tiles.
Their flat, geometrical design seems to spark more intricate creativity and architectural ambition among my little builders. The larger size makes clean-up a breeze, and I've found them to be remarkably durable, surviving countless "toddler tests". Although slightly sharper edges were a concern initially, we've never had an issue with safety.
Of course, every child and home is unique, but in our experience, Magna-Tiles have come out on top, providing a perfect blend of fun, learning, and durability.
Looking for more magnetic set comparisons? Check these out!
KidSpaceStuff is a site dedicated to helping parents find the best interior design, activities, and inspiration for their kids.