As a mom of multiple kids, I've seen countless toys come and go, but few have captivated my children's interest as enduringly as Magformers Magnetic Tiles. With their simplicity yet boundless creative potential, these toys have become a family favorite.
In this review, I'll share my insights on why Magformers Magnetic Tiles stand out among the toy clutter, how they've enhanced our playtime, and the value they offer. Whether you're considering them as a gift or a way to entertain your little ones, I hope my review will help you understand why these toys deserve a spot in every family's playroom.
Pros and Cons
What I Liked
The set includes a wide variety of pieces for endless building possibilities.
The Neodymium Rare-Earth Magnets ensure strong connectivity and stable structures.
The magnetic tiles are made of BPA-free HQABS plastic and conforms to safety standards.
It's a great educational tool for learning

shapes

, colors, and building concepts.
The pieces are compatible with all other Magformers shapes and accessories.
What Can Be Improved
More expensive than other magnetic tiles.
The tray inside the box that holds the pieces is flimsy and could be sturdier.
Quick Verdict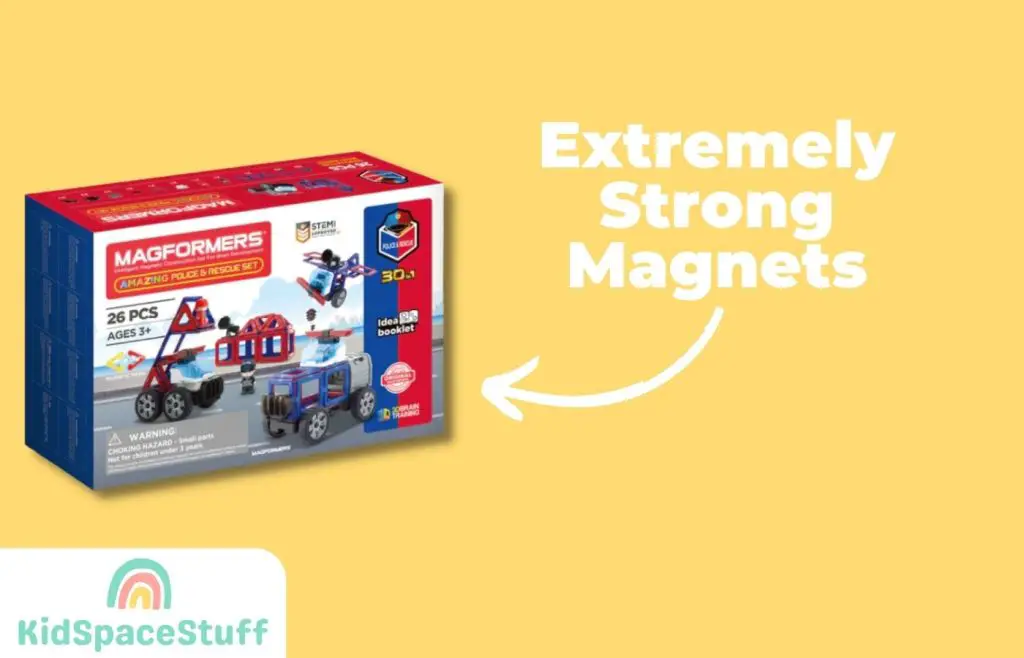 The Magformers Basic Set (62-pieces) Magnetic Building Blocks is a high-quality, educational toy that provides endless fun and learning opportunities for children.
With its strong magnets, versatile design, and compatibility with other Magformers shapes, it's a great investment for building creativity and critical thinking skills. Although the price may be a bit steep, the quality and educational value justify the cost. I highly recommend the Magformers Basic Set for any child who enjoys building and learning through play.
Unboxing – What's Inside?
I recently purchased the Magformers Basic Set (62-pieces) Magnetic Building Blocks from Amazon. Being a fan of building toys and STEM education, I was excited to try out these magnetic tiles. The delivery was quick, and I received the product within a few days.
Inside the box, I found 62 magnetic shapes of various vibrant colors. There were triangles, squares, and other polygons that could be easily connected using the magnets embedded in the tiles. The pieces were well-made and had a solid feel to them. It was fascinating to see how they easily snapped together and allowed for endless creative possibilities.
Features – What We Found
Diverse Building Possibilities
The Magformers Basic Set offers a wide range of building possibilities with its 62-pieces, including 20 triangles, 30 squares, and 12 pentagons.
These diverse shapes, along with the step-by-step idea booklet, provide endless fun and creativity for children aged 3 and above. Whether they want to build simple 2D structures or complex 3D models, this set has got them covered.
You can also check out my Magna Tiles review to see how these stack up!
Strong Magnetic Connectivity
This set features Neodymium Rare-Earth Magnets, which ensure strong and reliable connectivity every time you play or build. The magnets allow the pieces to easily snap together, providing instant connection and enhancing the overall building experience. With this strong magnetic connectivity, children can create sturdy and stable structures without the worry of them falling apart.
Wondering how Magformers stack up against other magnetic tiles? Check out this Magformers vs Magna Tile comparison!
STEM Educational Benefits
Magformers Basic Set is the perfect toy for STEM education. Through playing and building with these magnetic blocks, children can learn about shapes, colors, and the basics of geometry. They can also develop their problem-solving skills, logical thinking, and spatial awareness as they transform their 2D designs into 3D structures. By engaging in hands-on construction, children can enhance their creativity and critical thinking abilities.
Compatibility with Magformers Shapes and Accessories
The Magformers Basic Set is compatible with all other Magformers shapes and accessories. This means you can expand your collection and combine different sets to create even more intricate and complex models. The versatility of this compatibility allows for endless possibilities and encourages children to keep exploring and building with their magnetic blocks.
Safe and High-Quality Construction
The Magformers Basic Set is made from BPA-free HQABS plastic and Neodymium magnets. It conforms to safety standards such as CE, ASTM, and EN71, ensuring the utmost safety for children during play. The ABS plastic magnets also comply with these safety standards. With its high-quality construction, this toy is durable and long-lasting, providing hours of safe and enjoyable playtime.
Final Thoughts
My Score: 9.5/10
Overall, Magformers are a great purchase that I would highly recommend.
The set comes with a variety of shapes, including triangles, squares, and pentagons, allowing for endless building possibilities. The step-by-step idea booklet has been a great resource for inspiration, and my kids have been having a blast creating different models.
One of the standout features of this set is the strong connectivity provided by the Neodymium Rare-Earth Magnets. The pieces connect easily and securely, ensuring that our creations stay intact during play. I also appreciate the high-quality materials used in the construction of the blocks, as they are BPA-free and conform to safety standards.
Not only is this set incredibly fun to play with, but it also offers educational value. My kids have been learning about shapes, colors, and building in both 2D and 3D. It's a fantastic STEM toy that promotes creativity and problem-solving skills.
I highly recommend the Magformers Basic Set to anyone looking for a durable and versatile magnetic building toy. It provides hours of entertainment for both kids and adults, and with a rating of 4.8 and over 1800 positive reviews on Amazon, it's clear that many others have had a great experience with this product as well. Don't miss out on the endless building possibilities with this fantastic toy!
KidSpaceStuff is a site dedicated to helping parents find the best interior design, activities, and inspiration for their kids.