At 15 months old, the world is a symphony of colors, sounds, and textures, each moment an opportunity for discovery and growth. It's an age of boundless curiosity, where the simplest toys become gateways to endless adventures. 
Choosing the right plaything for these young explorers is both an art and a science, marrying fun with developmental milestones. In this article, I will introduce you to the best toys for 15-month-olds to ignite their imaginations and bolster their burgeoning skills.
Best Toys for 15 Month Old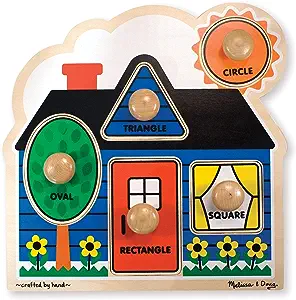 If you're searching for a top-notch educational toy for your little ones, let me share our recent find: the "Melissa & Doug First Shapes Jumbo Knob Wooden Puzzle." Designed with our youngest learners in mind, this wooden puzzle introduces them to the world of basic shapes. It ensures their tiny hands can quickly grasp and play with the pieces, thanks to the extra-large knobs.
Comprising five distinct shape pieces, this puzzle is a creation of the renowned "Melissa & Doug" toy line, which many of us trust for its quality and educational value. We grabbed ours from Amazon, but it's also available on Walmart and the official Melissa & Doug site. More than just a toy, it's a beautiful avenue for toddlers to cultivate problem-solving skills and hone their fine motor abilities while having a blast. Please give it a go; it's a worthy addition to any playroom!
Product Features
Extra-thick wooden puzzle with five large pieces
Jumbo wooden knobs that are easy for toddlers to grasp
Full-color matching pictures underneath each piece
Encourages hand-eye coordination and visual perception skills
Made of high-quality materials
Pros
My toddler loves this puzzle! He can easily grasp the knobs and put the pieces together.
The colors are bright and cheerful, and the pictures are simple but engaging.
The puzzle is a great way to help my toddler learn about shapes.
It's also an excellent way to practice hand-eye coordination and fine motor skills.
The puzzle is well-made and durable.
Cons
The puzzle is a little small for older toddlers.
The pieces can be challenging to get out of the board at first.
---
Our little household recently got acquainted with the 6-in-1 Montessori Toys Play Kit, and it's quickly become a favorite. Crafted primarily from wood, this kit is a treasure trove of activities for young minds. Our kiddo loves the Coin Box, where they can slide in little wooden discs, and the Carrot Harvest toy is a delightful exercise in 'planting' and 'harvesting.' The Catch Worm activity adds an element of surprise. At the same time, the Shape Sorter has become our go-to for shape recognition practice. And the fun doesn't end there – the Whack-a-mole and Xylophone round out this diverse ensemble, allowing our child to explore rhythm and hand-eye coordination.
Suppose you want to give your child a head-start with tools prioritizing independent learning and cognitive development. In that case, this Montessori-inspired play kit is the way to go. Not only do these toys entertain, but they also play a pivotal role in honing essential skills, making them a valuable addition to any play space. Happy playing!
Product Features
Six different toys in one kit: object permanence box, coin box, carrot harvest, catch worm, shape sorter, and stacking rings.
It is made of high-quality wood and non-toxic paint.
Smooth edges and rounded corners for safety.
Promotes fine motor skills, hand-eye coordination, problem-solving, and cognitive development.
Suitable for ages 1-3 years old.
Pros
The toys are well-made and sturdy.
The colors are bright and attractive to babies and toddlers.
The toys are engaging and challenging, and they help develop various skills.
The kit is an excellent value for the price.
Cons
The toys are small so they could be a choking hazard for young children.
The object permanence box can be noisy when the ball hits the ground.
---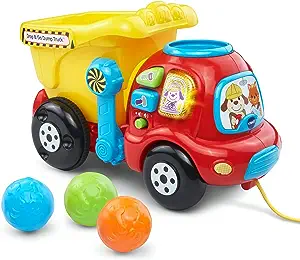 Recently, our household was introduced to the VTech Drop and Go Dump Truck, and it has since become an instant hit with our toddler! Crafted by VTech, renowned for its top-notch educational toys, this vibrant dump truck has beautifully married entertainment with learning. Decked in eye-catching shades like yellow and orange, it invites our little ones to drop colorful rocks into it, and the sheer delight on their face as they watch the rocks, tumble into the bucket is priceless.
But here's the real gem: as the rocks are dropped, the truck counts them aloud and can even belt out melodies and phrases. It's equipped with buttons that delve into the world of colors and tools, transforming this toy into a comprehensive learning hub. Beyond the vibrant colors and playful sounds, what resonates with me is its ability to teach cause and effect seamlessly. So, if you're searching for a toy that promises fun, learning, and endless engagement, this one's a winner!
Product Features
It has three colorful buttons that play melodies phrases, and teach tools and colors.
When you drop a ball into the top of the truck, it counts the number of balls and plays a corresponding sound.
The car also has a hinged bucket to be lifted to unload the balls.
It's made of durable materials and is safe for babies and toddlers.
Pros
It's a great learning toy that helps babies and toddlers learn about colors, numbers, and shapes.
It's also a lot of fun to play with and keeps babies and toddlers entertained for hours.
It's made of durable materials and is safe for babies and toddlers.
Cons
The balls can be a choking hazard for young children.
The truck can be significantly noisy when the balls are dropped into the top.
---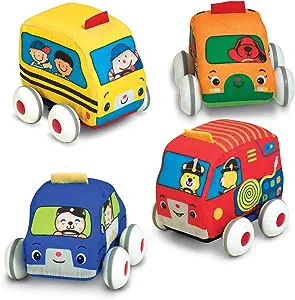 Let me share a recent discovery that's been an absolute joy for our little one: Melissa & Doug K's Kids Pull-Back Vehicle Set. If you've ever ventured into children's toys, chances are you've come across the trusted name Melissa & Doug. Their pull-back vehicle set, tailored for our youngest enthusiasts, comprises cuddly soft vehicles that fit snugly into those tiny hands.
What sets this apart is the magical "pull-back" feature. The sheer wonder in our child's eyes as the vehicle zooms forward after being pulled back is heartwarming. Ensuring safety and fun, these plushy vehicles minimize any playtime mishaps at home. The collection boasts four distinct vehicles, fueling hours of imaginative play. And to top it off, they come with a handy carrying case, perfect for tidying up or taking the fun on the road. If you're looking for a playtime companion that marries fun with safety, this might be your next favorite find!
Product Features
Four soft, lightweight vehicles: a school bus, family car, fire truck, and police car
The rev-up mechanism inside each automobile for effortless acceleration
Bright colors to stimulate early vision and focus
Illustrated characters and everyday themes to inspire imaginative play
Removable wipe-clean wheelie insert and washable fabric surface for easy cleanup
Pros
Durable and safe for babies and toddlers
Easy for little hands to grasp and pull back
Promotes fine motor skills, hand-eye coordination, and gross motor skills
Encourages imaginative play
It can be used on carpet or hardwood floors
It comes with a carrying case for easy transport
Cons
The vehicles are a bit small, so they may not be suitable for older toddlers or preschoolers
The fabric can be a bit delicate, so it's important to supervise children when they are playing with the vehicles
---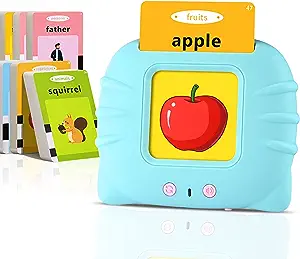 If you're on the hunt for a toy that's as educational as it is entertaining, I've found the perfect set for our little ones! The Citfis Toddler Toys, designed for children between 1-5 years old, is more than just a toy. With cards spanning sight words, animals, and transportation, this set is a fantastic tool to kickstart their vocabulary journey. I love the most the dual-sided cards that feature a vibrant image on one side and its corresponding word on the other. But here's the kicker: it comes with a card reader that pronounces these words, a game-changer for our kids to hear correct pronunciations.
What sets this product apart for me is its thoughtfulness. Beyond vocabulary, our children get to explore the captivating world of animals and the exciting realm of transportation. Imagine the joy of recognizing these objects and words when they come across them in real life! Durability is also a key feature. Knowing how our toddlers can sometimes be rough with their toys, I'm relieved that the Citfis Toddler Toys are crafted with sturdy materials. Moreover, safety is a priority, as they've ensured that the entire set is child-friendly.
Product Features
One hundred twelve double-sided flash cards covering 12 subjects: shapes, colors, animals, daily necessities, transports, food, fruits, vegetables, costumes, nature, persons, and jobs.
Built-in rechargeable battery with a lifespan of up to 4.5 hours.
Volume adjustable.
Portable bag for easy storage.
Pros
Educational and engaging. The flash cards cover many topics, and the voice pronunciation is clear and concise. My toddler loves learning new things with this toy.
Durable and long-lasting. The flashcards are made of thick cardboard, and the card reader is made of sturdy plastic.
Easy to use. My toddler can quickly put the flashcards into the card reader and press the buttons.
Portable and lightweight. The small and light toy makes it easy to take with us.
Cons
The cards are not laminated, so they can get damaged if wet or dirty.
The card reader can be loud for some people.
---
What to Consider When Purchasing a Toy for 15 Month Old
When purchasing a toy for a 15-month-old, it's crucial to consider its educational value, safety, age appropriateness, and more. Making a thoughtful choice ensures the child enjoys the toy and derives developmental benefits from it. Here are five essential factors to keep in mind:
Safety 
At this age, toddlers explore everything with their mouths. Choose toys without small parts that can be easily swallowed, and always ensure the materials are non-toxic. Additionally, check for sharp edges or points that could cause harm.
Developmental Appropriateness 
Toys should match a child's developmental stage. For a 15-month-old, toys that foster motor skills, hand-eye coordination, and basic problem-solving are ideal. Think of stacking rings, simple puzzles, and large building blocks.
Sensory Stimulation 
Babies and toddlers learn a lot through their senses. Opt for toys with different textures, sounds, and colors. These sensory toys can help their cognitive development, allowing them to experience better and understand their environment.
Durability 
Toddlers can be pretty rough with their toys. Choosing toys that can withstand some level of wear and tear is essential. Durable toys offer better value for money and ensure that the child can enjoy them for a longer time.
Educational Value 
The play is primarily for fun but also a child's primary learning mode. Toys that introduce concepts like numbers, shapes, and letters in a fun and engaging way can provide a foundation for future learning.
Ease of Cleaning 
Given that toddlers can get toys dirty easily, choosing toys that can be cleaned and disinfected without much fuss is beneficial. This ensures the child always has a clean toy to play with and reduces the risk of germs.
Here's a great video explaining how to entertain a one year or 15 month old kid.
Final Thoughts
After meticulously examining many toys suitable for 15-month-olds, it's clear that the market offers a vast array of quality options that cater to varied developmental needs. Each toy brings a unique benefit to the table, from sensory stimulation to cognitive enhancement. 
The Melissa & Doug First Shapes Jumbo Knob Wooden Puzzle stands out among the top contenders. Its combination of tactile engagement, visual appeal, and educational prowess makes it a sterling choice for parents wishing to offer their toddlers fun and learning. The durable design and commitment to child safety further affirm its position as our top choice.
Check out these other toy guides:
KidSpaceStuff is a site dedicated to helping parents find the best interior design, activities, and inspiration for their kids.