As a mom of several energetic and soccer-loving kids, I understand all too well how important it is to find the right soccer ball.
Whether they're just starting to learn the basics in the backyard or they're already aspiring to become the next big soccer star, having the right ball can make a world of difference in their love for the game.
So, I've put my experience to good use and rounded up a list of the best soccer balls for toddlers and kids that not only withstand the rigors of enthusiastic play but also aid in enhancing their budding skills. Let's dig in!
Best Soccer Balls for Kids & Toddlers
I've gathered a list of the best soccer balls for kids, including options perfect for toddlers. Check out these top picks for your little soccer stars.
WILSON's Traditional Soccer Ball is a great choice for kids who want to play soccer, especially for those who are just starting to learn the game.
The black and white panel design gives it a nostalgic and classic look that is bound to attract young players. I found it just the right size for younger children and enjoyed the fact that it retained its shape and air pressure pretty well.
However, one downside I noticed was that the ball could be a bit too hard for some kids, especially when it comes to kicking it with their toes or if it accidentally hits their face. It's better suited for recreational use, rather than being the ideal match ball. That said, it's perfect for playing in the backyard or at the park, but might not be the best fit for competitive games.
Another con I experienced was that the synthetic leather material could wear out over time, especially with frequent use. While it's perfect for starting out, it may not be the best long-term investment if your kids are getting more serious about soccer. Lastly, the size 3 ball is quite small and could be limiting for older kids who may need a larger ball as they grow.
In conclusion, the WILSON Traditional Soccer Ball is a solid option for kids who are just starting to play soccer and prefer a classic look. However, it may not be the ideal choice for older children or those who play in more competitive environments. Despite its cons, this ball remains a fun and reliable option for kids to enjoy the sport.
Pros
Classic black and white design
Synthetic leather cover for durability
Butyl rubber bladder for air retention
Cons
May be too hard for some kids
Materials might wear out over time
A bit small for older kids
My kids recently gave the Champion Sports Extreme Series Composite Soccer Ball a try and I must say, this ball is perfect for kids who are eager to develop their soccer skills.
The all-weather feature makes it ideal for those who live in areas with unpredictable weather, since it can be used in the rain, snow, and even on sand or gravel without losing its quality.
The soft touch composite material definitely stood out to me, as it provided better control and handling when juggling, kicking, or passing. Plus, it helps reduce the risk of injuries by not being too hard when it makes contact. I believe this characteristic will be especially helpful for young athletes who are still learning the sport.
Despite its outstanding performance, the Champion Sports Soccer Ball arrives deflated, which requires the purchase of an additional pump. Also, it might not be the best option for children who are just starting to learn soccer, as it is designed for more intermediate level players.
Overall, I believe the Champion Sports Extreme Series Composite Soccer Ball is a great investment for young soccer enthusiasts who want a durable and high-performing ball. Just remember to have a pump handy and you're all set for hours of fun on the field!
Pros
Great for all weather situations
Soft touch composite for improved handling
Durable build for rough play
Cons
Product comes deflated
Pump not included
Might be too advanced for absolute beginners
Looking for a fun ball that you can play with when the sun goes down? Consider the GlowCity Glow in The Dark Soccer Ball.
The bright LED lights inside the ball really do bring soccer to a new level, making it perfect for evening play. With two LED lights lasting up to 30 hours, it ensures that the fun can go on night after night.
As soon as you bounce or kick the ball, the lights inside activate – it's a pretty impressive feature. This means there's no need to worry about switches or manually turning anything on and off. Plus, the ball automatically shuts off when not in use, so it won't waste battery life. I found the rubber exterior to be quite durable, keeping the lights safe throughout some rough soccer play on the field.
The only negatives I encountered were that the ball seems slightly more bouncy than a traditional soccer ball. This didn't really impact my enjoyment but could take some getting used to for more serious players. Additionally, the ball requires inflation with a pump and doesn't offer too many design options. However, that didn't bother me too much, as the main attraction here is the glow-in-the-dark feature.
Overall, I think this GlowCity soccer ball is a fantastic gift idea for kids or teenagers who love soccer – or really anyone looking to have some fun outside once the sun sets. The bright lights, impact activation, and durable exterior make this a solid purchase that will bring endless hours of fun.
Pros
Bright and long-lasting LED lights
Impact activated for ease of use
Durable rubber exterior
Cons
Slightly bouncy
Requires inflation with a pump
Limited design options
After using the Western Star Soccer Ball with my kids, I immediately noticed the durable construction at play.
Not only did it withstand their unstoppable energy, but the eye-catching helix design made it incredibly easy to spot on the field. The multiple size options cater to different age groups, making it a versatile choice for any family.
Despite being made of faux leather, the ball's material holds up well. However, I would have appreciated a genuine leather option for a more premium feel. Additionally, the ball arrived deflated, and a pump was not included, which was a minor inconvenience. Also, I found it slightly heavier than some other soccer balls we've used in the past.
Regardless, the Western Star Soccer Ball proved to be a fantastic option for my kids. The quality construction, distinct design, and affordability make it an excellent choice for any young soccer enthusiast. Its minor drawbacks are easily overshadowed by the benefits it provides. I'd highly recommend it to fellow parents looking to purchase a soccer ball for their children.
Pros
Sturdy construction, perfect for rough play
Unique helix pattern makes it stand out
Comes in various sizes for different age groups
Cons
Made of faux leather, not genuine leather
Ships deflated, pump not included
May be slightly heavier than some alternatives
My kids and I recently played with the Franklin Sports Mystic Soccer Ball, and I can say it's a fantastic choice for kids aged 8-12.
It's built to meet the size 4 weight and size specifications, which is the perfect size for younger players who are still developing their soccer skills. The high-gloss, abrasion-resistant PVC cover is soft to the touch but is sturdy enough to withstand all-weather play season after season.
One of the features I appreciate about this ball is the layer of foam cushioning underneath the cover. This gives the ball a soft and responsive touch, making it easy to control, and provides better comfort when heading. The ball is designed for premium performance, making it suitable for training, scrimmages, and tournament play.
The Franklin Sports Mystic Soccer Ball arrives deflated but includes an air pump with a needle to maintain the perfect inflation level for play. However, it's essential to be aware that some people have encountered issues with the air pump (not me!), and the ball's colors may fade with time. Additionally, playing on rough surfaces like concrete may cause scratches on the ball's surface.
In conclusion, this soccer ball is a great investment for kids who are starting their soccer journey. With its official size 4 specifications, premium cover, and foam cushioning, the Franklin Sports Mystic Soccer Ball ensures an enjoyable playing experience while developing essential skills. Just be cautious with rough surfaces, and give extra care for the ball's colors and pump functionality.
Pros
Official size 4 for younger players
Premium, abrasion-resistant cover
Foam cushioning for a soft touch and control
Cons
Colors may fade quickly
Occasional air pump issues
Susceptible to scratches on rough surfaces
What to Look for in a Soccer Ball for Kids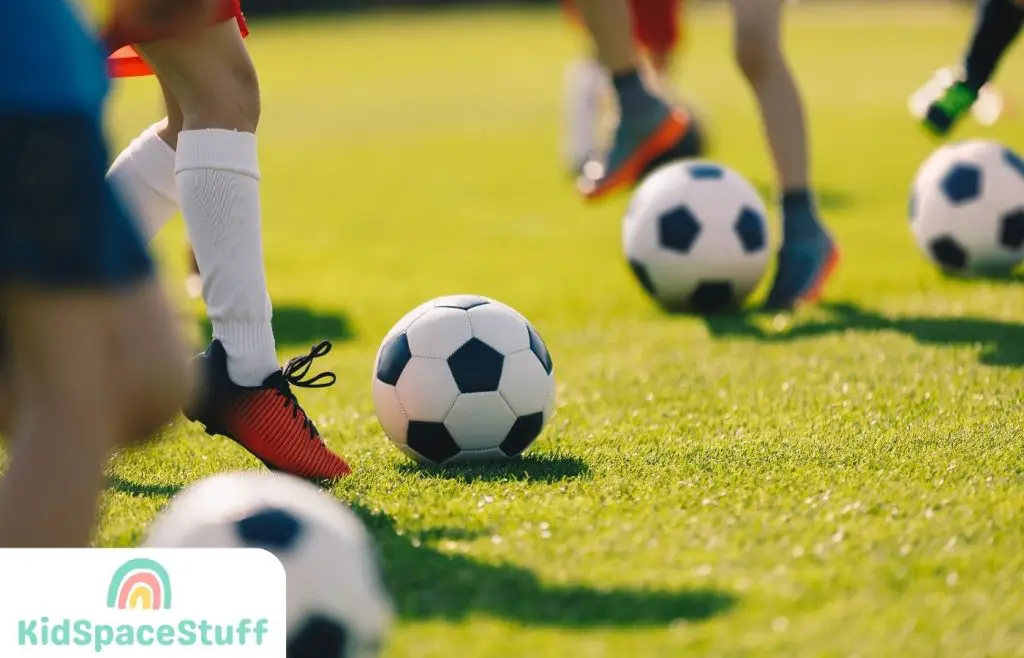 Size Matters: Understanding Soccer Ball Sizes
The first thing to consider when you're on the hunt for the best soccer ball for kids is the size.
Soccer balls range from size 1 to size 5, with the size 3 soccer ball being the ideal choice for children aged 8 and under.
For slightly older kids, a size 4 ball is the perfect match, offering a bit smaller dimension than the full size ball for adults.
Material and Construction: Synthetic Leather Soccer Balls vs Others
When it comes to the material and construction of soccer balls, synthetic leather soccer balls tend to be the more durable and higher-quality option.
Synthetic materials, like polyurethane (PU) balls, often have excellent air retention due to their reinforced rubber bladder, and are suitable for both indoor and outdoor use. Their machine stitched construction ensures durability, making them a great soccer ball choice for kids.
Pump it Up: Air Pressure and Ball Pumps
Most soccer balls need to be inflated using a ball pump.
Soccer balls with a latex bladder are known for having higher air pressure and may require more frequent pumping to maintain their shape and feel. On the other hand, balls with a butyl rubber bladder, such as the Wilson traditional soccer ball or the Franklin sports soccer ball, are celebrated for their excellent air retention, which means minimal pumping.
Weight and Feel: What Makes a Great Soccer Ball for Kids
For younger players, a lightweight ball is the way to go.
Training soccer balls, designed specifically for kids, are often lighter than standard balls, promoting better ball control and less risk of injury.
Look for a ball with a foam cushion for a softer feel, like the Daball toddler soccer ball or the Adidas Capitano soccer ball.
Check out these amazing soccer drills to take your child's skills to the next level!
Visual Appeal: Brightly Colored Balls for Increased Fun
Kids enjoy playing with brightly colored balls, so choosing a ball with an appealing design can make a big difference.
A traditional looking soccer ball like the Adidas soccer ball or a more vibrant option like the Adidas Capitano soccer ball, with its eye-catching graphics, could be the motivation your kid needs to start playing soccer more frequently.
Frequently Asked Questions
What size soccer ball should I get for my child?
In my opinion, it's crucial to pick the right size soccer ball for your child. Generally, soccer balls come in four different sizes:
Size 1: best for children under 4 years old
Size 3: suitable for kids ages 4 to 8, a great size for beginners
Size 4: ideal for players aged 8 to 12, it's a perfect transitional size
Size 5: the standard adult size, typically used by players aged 12 and older
I'd suggest you choose a ball size based on your child's age and the league or soccer organization they'll be joining.
Which brands make good soccer balls for kids?
As a casual observer, I've noticed that there are several popular brands offering quality soccer balls for kids. Some of the top names include Adidas, Nike, Puma, and Mikasa. These brands usually design balls with vibrant colors and graphics, which appeal to younger players. Additionally, they often focus on durability and air retention to ensure the ball lasts through days of continuous play. I'd recommend comparing different options and reading customer reviews to determine which brand and model would suit your child best.
How do I choose the right soccer ball for different age groups?
Choosing the right soccer ball for various age groups requires considering certain factors. Apart from size, which I already discussed, it's also important to pay attention to:
Material: I prefer balls made from materials like PVC or PU for younger players, as they provide a soft feel and minimize the risk of injuries.
Panels: Generally, soccer balls with fewer panels offer a smoother, rounder shape, making them easier for beginners to control. For kids, I'd suggest going for balls with 32 panels or fewer.
Air bladder: Prioritize balls with butyl bladders for younger players, as they hold air longer and require less frequent inflation.
Final Thoughts
Overall, the best soccer ball for kids and toddlers is the WILSON Traditional Soccer Ball. This is a great kids soccer ball that will last for years – not to mention it's super affordable as well.
If you want something with more durability, go with the Western Star Soccer Ball as this is a high quality ball that my kids have used for years without a problem.
Finally, if you want the coolest looking ball for your child, go with the GlowCity Glow in The Dark Soccer Ball because you cannot beat the look of this ball.
FYI – if you're wondering how long a kids soccer game lasts, it's usually under a few hours!
Looking for more kids sports gear? Check out these articles!
KidSpaceStuff is a site dedicated to helping parents find the best interior design, activities, and inspiration for their kids.