As a parent to a trio of spirited, baseball-obsessed boys, I've spent countless hours researching, buying, and yes, even smelling baseball gloves.
After all, that new-leather aroma is an integral part of the Little League experience!
So whether your child is taking their first teetering steps onto a tee-ball field, or they're a seasoned youth player snagging fly balls like a pro, finding the right glove can make all the difference.
In this article, I'll share my wisdom, gleaned from years of cheering from the bleachers, about the best baseball gloves for kids on the market. Let's dig in!
Best Kids Baseball Gloves
We've put together a fantastic list of the top kids baseball gloves on the market. Check out our recommendations below to find the perfect glove for your little slugger.
Our first experience with this Franklin Sports Kids Baseball Glove + Ball Set was quite impressive.
The lightweight, soft mesh construction made it incredibly easy for our younger players to use, and the fact that there was no break-in time required meant that they could start playing as soon as they put it on.
The glove pocket is specifically designed to fit the contours of a child's hand, making it easy and comfortable for them to use. This was a big selling point for us, as we have seen some kids struggle with other gloves that don't cater to their unique needs.
We also appreciated the inclusion of a soft foam ball in this combo set. This made it easy for our kids to play safely both indoors and outdoors, and provided a great way to introduce them to the game.
However, there are a few drawbacks to this set. While the bright colors were a hit with some of our kids, others would have preferred a more traditional color scheme. Also, the foam ball included may not be suitable for more advanced players who are looking for a more realistic baseball experience, although it's perfect for beginners.
The main concern we have with the glove is its durability, as it is made from a soft mesh material rather than traditional leather. This makes it lighter and easier for young players to use, but it may not last as long as a more robust glove. Despite this, we still found it to be a great option for beginner players, especially considering its comfortable fit and ease of use.
In conclusion, if you're looking for a kids baseball glove that is lightweight, comfortable, and ready to play as soon as it's put on, the Franklin Sports Kids Baseball Glove + Ball Set is definitely worth considering.
Pros
Lightweight, soft mesh construction for easy use
No break-in time necessary – ready to play immediately
Hand-formed pocket for a comfortable fit tailored for kids
Cons
Might be less durable than leather gloves
Bright colors may not be preferred by all kids
Foam ball included may not be suitable for advanced players
We recently tried out the Rawlings Sure Catch Youth Baseball Glove, and we were impressed with its performance. The soft, all-leather shell provides enhanced durability, which is perfect for young athletes learning the game. Additionally, the glove's pocket shape retention ensures it maintains its form during the season.
One standout feature of the Sure Catch glove is its heel cutout design, which allows for a quick and easy close. This is especially beneficial for young players who need a glove that's game-ready off the shelf. Moreover, the cushioned finger linings offer extra comfort, making it easy for kids to practice and play with confidence.
Although the glove is designed for players aged 4-10, it might be too small for some 10-year-olds with larger hands. Keep this in mind when purchasing the glove for an older child. The Rawlings Sure Catch does require some break-in, as it comes 90% factory broken-in and needs 10% player break-in for optimal performance. Lastly, rapidly growing children might need a replacement sooner than expected, but that's a small concern given the glove's quality and affordability.
Overall, we highly recommend the Rawlings Sure Catch Youth Baseball Glove for young athletes learning the game. Its durability, easy close design, and comfortable fit make it a great choice for kids who want to improve their skills on the field.
I firmly believe the Rawlings Sure Catch Youth Baseball Glove is a fantastic choice for young players (ages 4-10) learning the game due to its durability and game-ready feel.
Pros
Soft, all-leather shell for durability and pocket shape retention
Sure Catch heel cutout design for quick and easy close
Cushioned finger linings for added comfort
Cons
Might be too small for some 10-year-olds
Requires some break-in for optimal performance
May need replacement sooner for fast-growing kids
As parents and coaches, we tried out the Wilson A500 Baseball Glove Series for our youth players and were amazed by its flexibility and ready-to-go feel.
This 11.5″ glove with H-Web design is made with top grain leather that makes it the lightest all-leather glove on the market. This is perfect for our little leaguers who need a glove that doesn't weigh them down.
In my experience, the glove barely needed any break-in time, which was a significant advantage for our young players who were eager to get on the field.
The double palm construction adds durability, ensuring that the glove lasts through multiple seasons. Additionally, we love the eye-catching black, copper, and white color combination that just adds a touch of style to our players' gear.
The only minor drawbacks we encountered were that the glove can feel a bit stiff initially, but this is easily resolved with a bit of use and glove oil. Speaking of glove oil, we would have appreciated it if the glove came with some oil or preservative, but it was not a deal-breaker. Keep in mind that while this glove is excellent for youth players, it's not intended for those at a pro-level.
Overall, we highly recommend the Wilson A500 Baseball Glove Series to young baseball players who desire a lightweight, flexible, and stylish glove without compromising on performance.
Pros
High-quality top-grain leather
No extensive break-in required
Double palm construction for added durability
Cons
May feel a bit stiff initially
Not intended for pro-level players
No included glove oil for preservation
If you're looking for a beginner glove, the Franklin Sports Teeball Glove to be a fantastic option, especially considering the Shok-Sorb palm padding that reduces the sting when catching the ball. This feature gave our kids the confidence to keep practicing, knowing the glove would help to protect their hands.
One thing we appreciated about this glove was the Infinite Web construction, which allows the webbing to expand to twice its depth. This is a significant advantage for young tee ball players still developing their hand-eye coordination, as it increases the chances of securing a catch.
While the Franklin Sports Teeball Glove is a great option for the price, it may not have the same level of durability as some higher-priced gloves. It can start to wear after a few months of regular use, which is frustrating. However, given its affordability, it could still be a great choice for families on a budget or for those who don't mind replacing their glove once it's outgrown.
It's worth mentioning that the glove might be somewhat stiff upon arrival, requiring a bit of extra break-in time. To expedite this process, you can look up some online tutorials on how to break in a baseball glove effectively. Finally, keep in mind there are limited size and color options, but they should be sufficient for most young players.
In conclusion, the Franklin Sports Teeball Glove is a terrific option for young, aspiring baseball players. It offers essential features to help them develop their skills with greater confidence and comfort. While it may not be the most durable or customizable option on the market, it's hard to beat the value it provides.
Pros
Shok-Sorb palm padding minimizes sting
Infinite Web construction for expanded web depth
Great value for a functional, lightweight glove
Cons
May not be as durable as higher-priced options
Stiffness might require extra break-in time
Limited size and color options
We recently used the Mizuno GPP1000Y3 Youth Prospect Series PowerClose Baseball Gloves and found it to be an excellent choice for young players.
The PowerClose technology makes catching significantly easier, helping kids develop their skills and enjoyment of the game.
The full grain pigskin leather of the glove offers durability, while the butter soft palm liner provides a soft, comfortable fit even during extended use. The MZO lining helps disperse perspiration, keeping your little player's hand dry and comfortable during games and practice sessions.
We noticed that the glove might not fit older or larger children properly, so make sure you check the size before purchasing. Additionally, while the design is sturdy, it might require some extra oiling to enhance its flexibility. It's important to note that this particular model is designed for right-handed players, so lefties should look for a different option.
Overall, I believe this Mizuno glove is perfect for young, right-handed players looking to improve their skills on the field. It's durable, comfortable, and easy to use, making it a great choice for your child's first baseball glove.
Pros
Easy for young players to close
Great durability with full grain pigskin leather
Comfortable fit, thanks to the butter soft palm liner
Cons
Might not fit older or larger children properly
Might need additional oiling to increase flexibility
Not suitable for left-handed players
My kids used the PHINIX Baseball Glove Tee Ball Mitts for months and found it to be a great choice for beginner baseball and tee ball players.
The glove is made of advanced Synthetic leather and PU inner, giving it a comfortable feel while being durable enough for young players.
One of the standout features of this glove is its quick break-in process.
Our kids were able to get it game-ready in no time, and its lightweight and flexible design made it easy for them to catch and field balls effectively. Despite its light profile, it still offers suitable protection for their hands.
We also appreciated that the glove came with a soft foam Tee ball, which added an extra layer of protection during practice. This made us feel more confident in letting them play and learn the game.
However, this glove is specifically designed for right-hand throwers, which means that it won't be a suitable option for left-handed kids. Additionally, the glove is geared towards younger children (3-5 years old) and may not fit older kids comfortably.
One thing to note is that some customers reported the packaging didn't include the foam ball as advertised. So, be aware that you might have to purchase a foam ball separately.
Overall, the PHINIX Baseball Glove Tee Ball Mitts is an excellent option for young kids looking to start their baseball or tee ball journey. It's comfortable, easy to break in, and offers suitable protection for their little hands on the field.
Pros
Advanced Synthetic leather and PU inner provides comfort and durability
Quick and easy break-in process
Comes with a soft foam Tee ball for safer practice
Cons
Designed for right-hand throw only
May not fit older children
Packaging may not include the advertised foam ball
We recently tried out the Franklin Sports Baseball Gloves, and they definitely impressed us with their pigskin leather construction, which is not only lightweight but also incredibly durable.
This makes the gloves perfect for kids who are starting out in baseball and need a reliable glove that will last throughout their growth.
The soft, flexible leather is easy to shape, which helped make the gloves ready to play very quickly. This is important for kids who can't wait to hit the field and need a glove that breaks in fast. Additionally, the durable shell is designed to protect against dirt, moisture, and other damage, ensuring that the glove maintains its quality throughout the season.
One drawback we noticed was the synthetic outer material of the glove, which might not break in as easily as desired, even after oiling it. This could be a minor issue for some players who prefer an all-leather glove. The size may also be slightly small for children aged 9 or over, so you might want to consider a larger glove for those kids. Finally, the glove may not be suitable for more intense play, as it is designed for recreational use and might not withstand very rough play.
Overall, the Franklin Sports Baseball Gloves are an excellent choice for kids who need a durable, comfortable glove that is easy to break in and ready to play. If you're looking for an affordable yet high-quality baseball glove for your child, this is definitely one to consider.
Pros
Pigskin leather provides smooth, lightweight, and durable construction
Ready to play with minimal break-in required
Durable shell preserves leather against dirt and moisture
Cons
Outer material is synthetic which may not break in as easily
May be slightly small for some aged 9 or over
Not suitable for highly aggressive play
What to Consider When Buying Gloves for Youth Players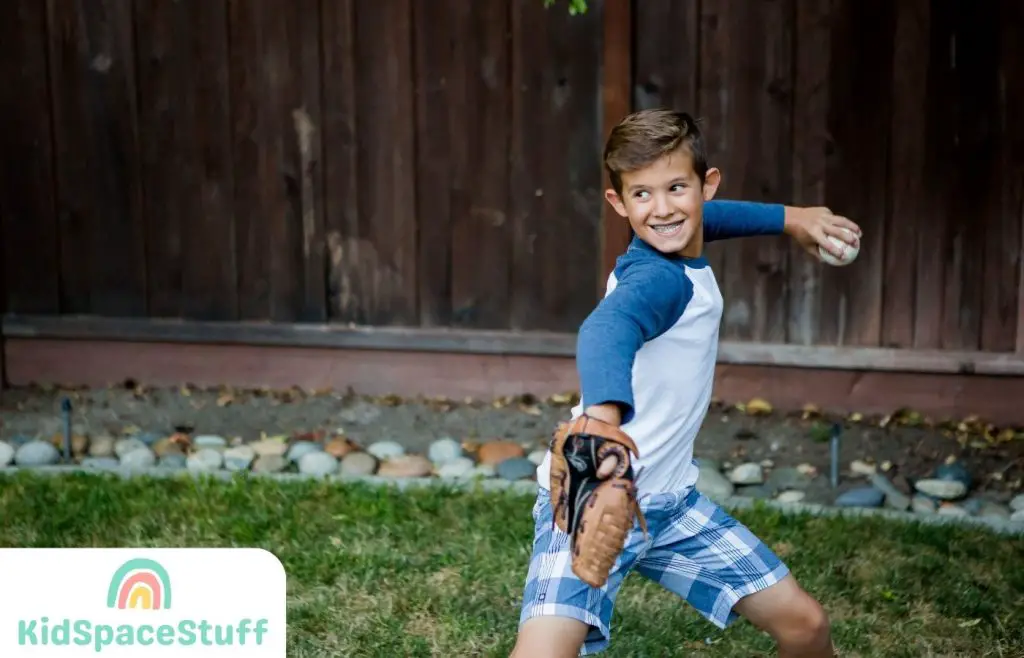 Choosing the Right Size: A Measure of Success
Size matters immensely when choosing a baseball glove. You need to consider the size glove most appropriate for your child's hand. The size of youth baseball gloves usually ranges from 9 to 12 inches, measured from the heel of the glove (located at the base of the palm) to the top of the glove (the tip of the index finger). This ensures a well-fitting glove and optimum performance on the field.
Materials Matter: Leather Gloves vs Synthetic Gloves
Baseball gloves are constructed from various materials, each influencing the glove's durability, feel, and break-in time. Your best bet is often leather gloves. Full-grain leather offers an excellent balance between durability and comfort but requires a break-in period. Gloves made from synthetic leather are typically lighter, more affordable, and require little to no break-in time, making them an ideal choice for young players and beginners.
Positional Considerations: The Best Youth Baseball Gloves for Every Role
Some baseball gloves work equally well for all positions, but others are specifically designed for certain roles. For instance, an infield glove typically has a shallow pocket to allow for quick throws, whereas an outfield glove has a deeper pocket to assist in catching fly balls. There's a vast difference between a catcher's mitt and an infield glove. Familiarize yourself with these distinctions to find the best youth baseball glove for your child's position.
Webbing Wonders: Catch Fly Balls with the Right Design
Another critical feature is the glove's webbing.
Closed web designs provide additional support and are often preferred by pitchers.
In contrast, open web designs facilitate faster transfers of the ball from the glove to the throwing hand, a vital attribute for infielders. The best baseball gloves offer a blend of these characteristics to cater to various needs.
Break-In Time: From New Glove to Game Ready
The best youth baseball gloves often come 'game ready', meaning they're soft and flexible straight out of the box. However, some gloves, especially those made from high-quality leathers, need a break-in period to achieve optimal flexibility and comfort. This process typically involves applying a glove conditioner to the leather and playing catch to mold the glove to the player's hand.
Here's a great video to help you break in your gloves.
Tee Ball Gloves: Starting Them Young
Tee ball gloves are specially designed for the youngest players.
These kids' baseball gloves are smaller, more lightweight, and heavily padded to protect young hands. The Franklin Sports Teeball Glove, for instance, features a lightweight construction, making it easier for young kids to control and enjoy their first experiences in baseball.
In the end, buying the best kids baseball glove involves considering various factors such as size, material, design, and personal preference. With this guide, you're one step closer to finding the right glove to kickstart your child's journey into baseball.
Check out this guide to understand how long kids baseball games last!
Frequently Asked Questions
How do I choose a baseball glove for my child?
When selecting a baseball glove for your child, consider their age, position, and the glove's materials. Generally, you want to look for a glove that is lightweight, flexible, and easy to break in. It is essential to know your child's hand size and ensure the glove has enough adjustability for a secure fit. Start by having your child try on several gloves to find the most comfortable one.
What size glove should a 7 year old use?
A general guideline for a 7 year old would be a glove size between 10.5 to 11.5 inches. However, remember that every child is different; it's helpful to measure their hand and have them try on gloves to find the right fit.
What's the ideal glove size for a 10 year old?
For a 10 year old, an ideal glove size would typically range between 11.5 to 12.25 inches. However, this may vary depending on their hand size and position. It is essential to measure their hand and consult sizing charts from glove manufacturers.
Which glove is appropriate for a 6 year old?
A suitable glove for a 6 year old may be between 10 to 10.75 inches in size. We recommend finding a lightweight and flexible glove that your child can maneuver and grip easily, as well as ensuring the glove has a secure but adjustable fit.
Which brands offer the best youth gloves?
Some reputable brands that offer high-quality youth gloves include Rawlings, Mizuno, Wilson, and Easton. Research each brand's designs, materials, and unique features to find the perfect glove for your child. It's also essential to read reviews from other parents and consult with fellow players or coaches for their recommendations.
Final Thoughts
So, what's the best youth glove?
Overall, I highly recommend the Franklin sports Kids Baseball Glove. This is an all around great gloves for youth to play baseball that will last for years.
Another great option is the Rawlings Sure Catch Youth Baseball Glove. The quality of this glove is amazing and my kids love how comfortable it is.
Looking for more kids sports gear? Check out these articles!
KidSpaceStuff is a site dedicated to helping parents find the best interior design, activities, and inspiration for their kids.