Are you looking for a 3D pen designed specifically for younger kids and children?
3D pens can be a great way to fuel your kid's imagination and limit children's screen time making them a perfect investment.
In this guide, I'll show you the absolute best 3d pen for kids and children to fulfill your builders imagination! Let's dig in!
Best 3D Pens for Kids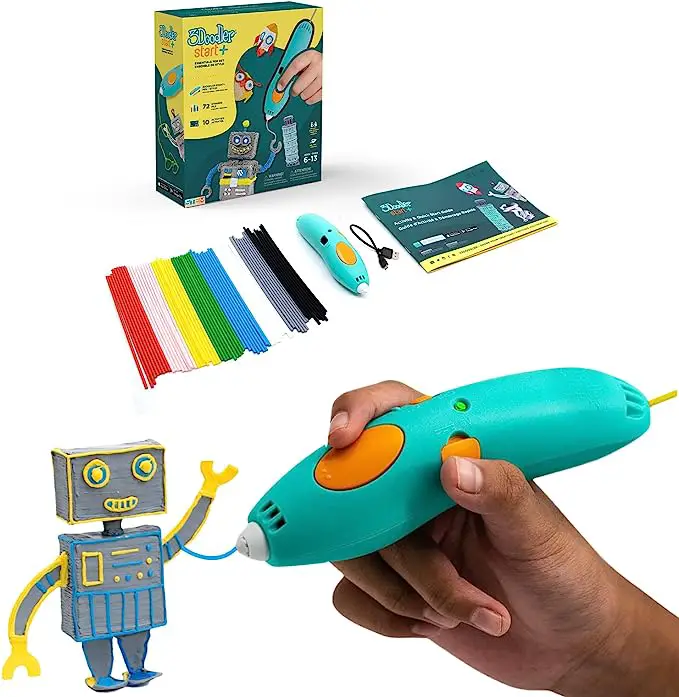 The 3Doodler Start+ Essentials is a must-have for children who enjoy creative activities and learning STEM concepts.
Pros
Child-safe design with no burn risks
Upgraded for easier use and faster charging
Encourages screen-free, hands-on learning
Cons
Filaments may jam if not handled properly
Only compatible with 3Doodler Start filaments
May be considered expensive for some budgets
The 3Doodler Start+ Essentials 3D pen is specifically designed to be safe and easy for kids aged 6 and up to use. With no hot parts and the ability to touch the pen nozzle and plastic without burns, your child can create outstanding 3D art worry-free.
The pen's upgrades include faster charging, more plastic strands, and 10 new stencils, all designed to provide the best 3D drawing experience. The engaging hands-on learning reduces screen time while exposing your child to real-world STEM concepts.
Although this 3D pen is highly recommended, it's essential to follow the instructions carefully to prevent any jams from improper filament use. The pen is also limited to 3Doodler Start filaments. Despite the price, the 3Doodler Start+ Essentials makes a fantastic educational and creative tool for children.
---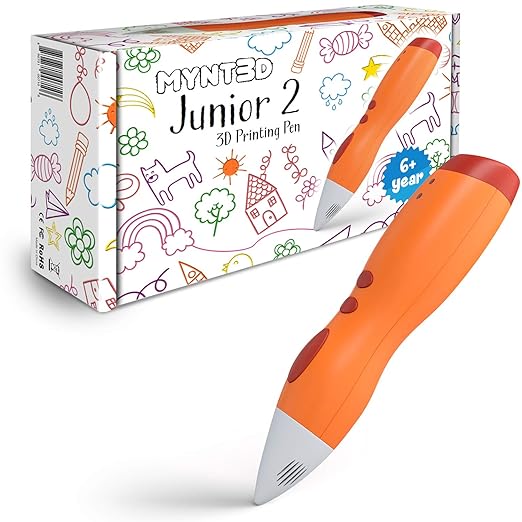 The MYNT3D Junior2 is a great choice for young artists due to its kid-friendly design and low operating temperature.
Pros
Ergonomic design for easy grip
Low temperature nozzle for safety
Sealed nozzle to prevent clogs
Cons
Limited to PCL filament
Battery life can be short
Moderate 3D building capability
When I tried the MYNT3D Junior2 3D Pen, I found it to be an ideal starter pen for kids looking to explore the world of 3D printing. Its ergonomic design allows for easy grip, making it comfortable to use for extended periods.
The low temperature nozzle is a great safety feature that ensures young hands won't get burned. Additionally, the sealed nozzle design prevents clogs, giving you endless hours of fun and learning.
However, there are some drawbacks. This 3D pen is only compatible with PCL filament, meaning you may struggle to find replacements. The battery life is also somewhat limited, so taking breaks to recharge becomes necessary. Lastly, don't expect to build complex 3D structures, as it's more suited for beginners.
Overall, the MYNT3D Junior2 3D Pen provides a safe and enjoyable introduction to 3D printing for children. Just be prepared for frequent recharging and limited building capabilities.
---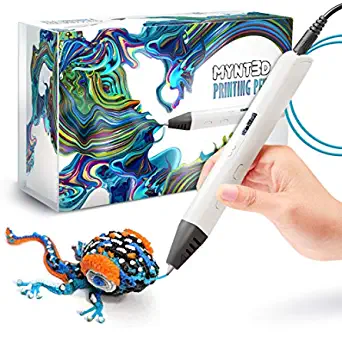 The MYNT3D Professional Printing 3D Pen is a great tool for kids to unleash their creativity, while offering precise control and versatility.
Pros
Adjustable speed and flow for optimal control
Wide temperature range for fine-tuning
OLED display for temperature monitoring
Cons
Initial clunky feel to the pen
Short power cord
Takes some practice to master
This 3D pen from MYNT3D offers an excellent way for kids to bring their imagination to life. The adjustable speed and flow settings provide optimal control, while the wide temperature range ensures precise fine-tuning. The OLED display neatly displays the temperature, ensuring you achieve the desired effects.
While the pen may feel somewhat clunky at first, you'll quickly get used to it and it becomes easy to use. One downside is the short power cord, which can affect your ability to maneuver while drawing. Additionally, it does take some practice to master the pen, but once you do, the possibilities are endless.
With solid features and thoughtful design, the MYNT3D Professional Printing 3D Pen is a great purchase for inspiring creativity in kids.
---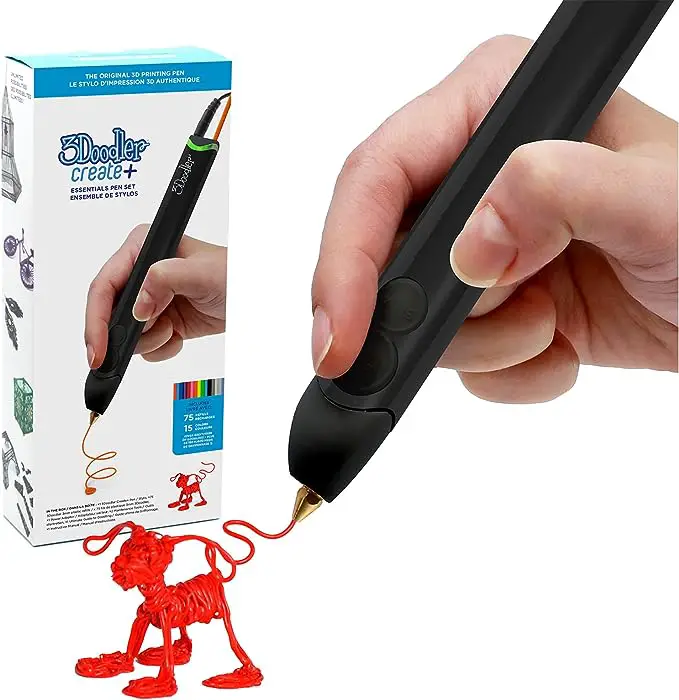 This 3D pen brings creativity to life, making it a perfect choice for kids who love arts and crafts.
Pros
New creative medium to explore art
Easy to use with quick-hardening plastic
Comes with 15 colors and an activity guide
Cons
Only compatible with 3Doodler Create plastic
May require practice for best results
Filament may run out quickly
As someone who has used this pen, I can say that it's truly a game-changer for artistic kids. The 3Doodler Create+ empowers them to draw not only on paper but also in 3D space, opening up a world of possibilities.
The pen is easy to use, with a simple plug-and-play setup. Kids can quickly start creating masterpieces – with a little practice, of course. The included activity guide assists in learning, ensuring they make the most of their 3D pen experience.
While the pen requires specific plastic refills, the variety of colors provided will spark kids' imaginations. Keep in mind that filaments may run out relatively fast, so having extra refills handy can be beneficial.
In conclusion, the 3Doodler Create+ 3D Printing Pen is an engaging and versatile tool that encourages creativity and offers hours of fun for kids.
---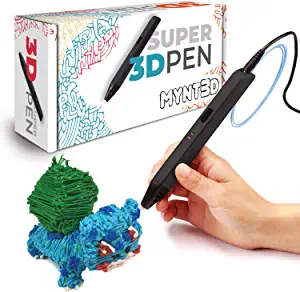 The MYNT3D Super 3D Pen is an excellent choice for kids looking to explore 3D printing in a fun and creative way.
Pros
Easy for kids to transform their drawings into 3D art
Adjustable speed slider for optimal control and fluidity
Long-lasting ultrasonic sealed nozzle that resists clogging
Cons
Slight learning curve for beginners
Little screwdriver provided is plastic and may bend
Some users find difficulty in mastering the pen
Children and adults alike can enjoy the MYNT3D Super 3D Pen, as it enables users to create fascinating 3D artworks with ease. Its compatibility with both ABS and PLA filaments adds versatility, allowing for greater experimentation.
The stepless speed slider allows you to adjust the flow rate according to your preference, ensuring you maintain control during the creative process. However, it may take some time for beginners to get used to working with this 3D pen, so patience and practice are essential.
Despite the minor drawbacks related to the screwdriver and learning curve, the MYNT3D Super 3D Pen is an engaging and fun way to develop artistic skills in both children and adults. Its reliable performance and user-friendly design make it a fantastic tool to foster creativity and imagination in the realm of 3D printing.
---
What to Consider When Buying a 3D Pen for Kids
Safety Features
Safety should be your utmost priority when purchasing a 3D pen for kids.
Look for models that come with a variety of safety features to ensure a secure creative environment. For instance, an auto shutoff feature can be invaluable as it turns the pen off when not in use, preventing potential accidents.
Additionally, a built-in heat protection system is essential to keep the pen at a safe operating temperature and prevent burns.
Some pens also have encased nozzles and lower temperature options which are added safety measures, particularly beneficial in a child-friendly pen.
Ease of Use
A 3D pen should foster creativity rather than frustrate young users. Therefore, opt for a pen with a user-friendly design that encourages a positive drawing experience.
Features like an ergonomic grip can make handling the pen more comfortable over extended periods. Easy loading of the filament and intuitive controls simplify the operation, allowing kids to focus on creating instead of figuring out how to use the pen. Moreover, a pen with a streamlined process for switching between different filament colors can enhance the creative experience.
Filament Type
The types of plastic filament a 3D pen is compatible with will impact both the safety and the variety of creations possible.
PLA (Polylactic Acid) and PCL (Polycaprolactone) filaments are eco-friendly options with lower melting temperatures, which is ideal for younger users as it reduces the risk of burns. These plastic filaments also tend to produce less harmful fumes compared to other types like ABS (Acrylonitrile Butadiene Styrene).
Additionally, it's worthwhile to check if the pen can accommodate different filament diameters to offer more flexibility in creations.
Wi-Fi Connectivity
In an age of smart devices, having a 3D pen with Wi-Fi connectivity can be a significant advantage. It allows for the download of templates and designs directly to the pen, providing guidance for kids as they work on their projects.
This feature can be particularly helpful for beginners, aiding them in honing their skills and gradually working towards creating more complex 3D designs. Moreover, some pens offer accompanying mobile apps, which can further enrich the creative process with tutorials and community sharing platforms.
If your 3D pen doesn't offer Wi-Fi connectivity, be sure that it has a micro USB port of some sort.
Warranty and Customer Support
Investing in a 3D pen with solid warranty coverage and responsive customer support ensures that any issues encountered can be promptly resolved.
It's reassuring to know that assistance is available should technical difficulties arise, or if you require guidance on how to maximize the pen's features. A good warranty also signifies a level of trust from the manufacturer in the product's quality and longevity, which in turn, promises a long-lasting, enjoyable creative experience for your child.
Here's a great video of a kid showing how to use a 3D pen!
Frequently Asked Questions
What are the top 3D pens suitable for children?
When choosing a 3D pen for children, safety and ease of use should be the top priorities. Some popular 3D pens that cater to kids' needs are the 3Doodler Start, MYNT3D Junior, and the AtmosFlare 3D Drawing Pen. These pens have features like low-heat technology, easy-to-hold design, and non-toxic filaments, making them safe and suitable for children to use.
At which age can kids safely use a 3D pen?
Though the specific age may vary depending on the child's dexterity and maturity, typically children around 6 to 8 years old can start using 3D pens. It is crucial to choose a pen designed for kids and to provide adult supervision during the learning process for safety and guidance. As your child grows and gains experience, you can introduce them to more advanced 3D pens with additional features and capabilities.
Final Thoughts
So, what's the best 3d pen for kids?
In my opinion, I'd highly recommend the 3Doodler Start+ Essentials 3D Pen Set for Kids. It's a great 3D pen that has all of the safety features that are great for kids.
KidSpaceStuff is a site dedicated to helping parents find the best interior design, activities, and inspiration for their kids.