As a mom, I know how vital a good night's sleep is for both kids and us parents. A night light has proven to be a comforting bedtime tool, providing a soothing glow for kids and helping parents check in without disturbing sleep.
Choosing the right night light involves considering its brightness, size, and design, but the most important factor is it shouldn't interrupt your child's sleep. Also, keep an eye out for energy-efficient, durable lights with safety features like auto shut-off.
So, what's the best night light for kids? Let's find out!
In a hurry? The best night light for kids is the Hatch Baby Rest Night Light. This is an amazing night light that offers all of the features you could want. It's safe, durable, and easily customizable which is why I'm a huge fan.
Best Night Lights for Kids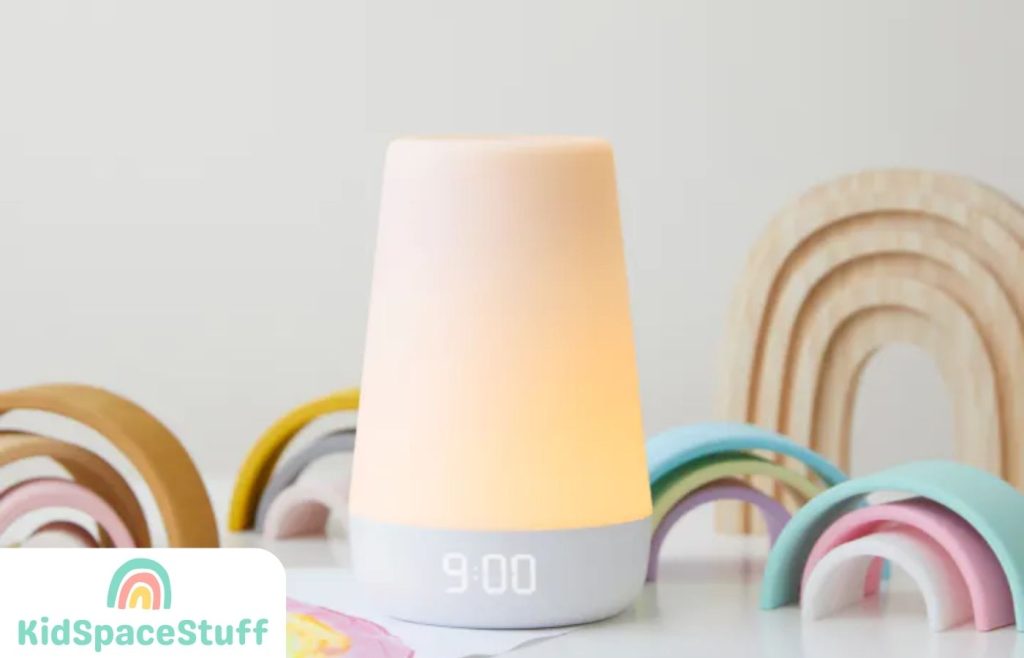 Of all the night lights I've come across, the Hatch Baby Rest Night Light stands out for its unique blend of functionality and thoughtful design. As a seasoned parent, I can attest to the comfort and convenience it brings to the bedtime routine.
The Hatch Baby Rest Night Light is more than just a night light – it's a multifunctional device that includes a sound machine and a time-to-rise alert in addition to its primary role as a night light. This versatility means you get more value and utility from a single, compact device.
The adjustable brightness and color of the night light are one of its standout features. With a wide range of hues available, your child can select their favorite color, adding a personal touch to their night time environment. The light is soft enough to provide comfort without disrupting sleep, making it an excellent addition to your child's room.
The sound machine functionality can be a godsend for parents. The device offers a variety of soothing sounds that can help lull your child to sleep, from gentle lullabies to calming white noise. If you've got a little one that struggles to fall asleep, this feature can make a world of difference.
One of the most unique aspects of the Hatch Baby Rest Night Light is its time-to-rise feature. It alerts your child when it's time to get up, helping to establish a consistent sleep routine. This can be especially helpful for toddlers transitioning out of nap times or for school-aged children who need to wake up at a consistent time.
The icing on the cake? All these features can be controlled remotely via your smartphone. The Hatch Baby Rest connects to an app, allowing you to adjust settings without disturbing your child. Change the color, adjust the volume of the sound machine, or set the time-to-rise alert, all from the comfort of your own bed.
Pros:
Multifunctional with remote control via app
Great sound quality
Cons:
Most expensive night light on my list
This night light is perfect for kids who need a soft, cuddly buddy to help them feel safe at night.
As a mom of multiple children, I have tried quite a few night lights to help my little ones feel safe at bedtime. The Mubarek Night Light for Kids Lamp Cat Lamp stands out as a cute and versatile option. This soft, huggable night light with a delightful cat shape is perfect for kids who need a reassuring presence when they go to sleep.
What I love about this night light is that it offers 16 different colors, allowing my kids to choose their favorite or enjoy a rainbow of hues. The soft and safe BPA-free silicone material makes it a worry-free choice, as I know it's safe for my children to cuddle with throughout the night. Plus, the USB rechargeable feature and cordless design make it incredibly convenient.
There's one main drawback to this night light, however. The tap control can be a bit too sensitive, making it easy to accidentally change colors when my kids just want to give their cat buddy a hug.
That said, overall, I think the Mubarek Night Light for Kids Lamp Cat Lamp is a cute and functional option for helping ease bedtime fears. Its soft, huggable design and impressive color-changing features make it a hit with my kids and I would highly recommend it.
Pros
16 color-changing options
Soft and safe BPA-free silicone material
USB rechargeable and cordless
Cons
Tap control might be too sensitive
Limited to 3 colors for some users
Charging port within the silicone is not secured
Another night light I'd recommend the DORESshop Night Light for its fun color options and adjustable brightness, perfect for comforting little ones at night.
I recently tried the DORESshop Night Light for my kids, and it's become a lifesaver for bedtime routines. One major selling point is that it offers three different lighting modes, which allows my children to choose their favorite color or a warm white light that won't disrupt their sleep. Best of all, I appreciate the simplicity of changing colors with just one button – no complex buttons here!
The night light boasts a stylish and low-profile design with its bubble patterns that help to disperse a soft glow around the room. My children love the multicolor mode, which cycles through eight different colors, creating a fun ambiance in their room.
However, if your child is very sensitive to light, be aware that the night light doesn't have an off button. You'll need to unplug it from the wall each time you want to turn it off – which can be annoying. Also, keep in mind that this night light design requires an available wall outlet to plug into, so it might not be suitable if you have limited space or outlets in your child's room.
Overall, I've found that the DORESshop Night Light is a great choice for kids who enjoy the fun atmosphere of colorful glow at night. Its easy-to-use button, durable design, and comforting warm light make it a convenient addition to any bedroom.
Pros
3 lighting modes with solid color, warm light, and multicolor options
Easy-to-use single button for color selection
Durable and low-key bubble design
Cons
No built-in off button
May not be suitable for very light-sensitive children
Plug-in design may require an available outlet
This versatile baby night light is a perfect companion for your little ones, with fun features and practical functionalities.
I found the One Fire Baby Night Light for Kids to be a great addition to our nighttime routine for a few different reasons. With its 480 lighting effects and 10 brightness levels, my kids have fun choosing their favorite colors to accompany them during bedtime.
The rechargeable battery feature is a lifesaver, especially on busy nights when I forget to charge it. With up to 200 hours of usage on the dimmest setting, my kids always have a comforting light by their side.
Apart from its colorful lights, this nightlight also has a built-in digital alarm clock – which can come in handy. Though setting it can be a bit bothersome for some, it helps my kids learn about time and morning routines. The auto timer is an excellent feature for energy-saving, as I can set the night light to turn off automatically after my kids fall asleep – which I love.
However, I wish that the app setup was more user-friendly, as I had a hard time initially connecting the device. Moreover, having more alarms compatibility would be a great addition to the clock function. Finally, it's a bit more expensive than other night lights, but not by a ton.
All in all, I found the One Fire Baby Night Light for Kids a practical and fun night light that both my children and I appreciate. With its multitude of lighting options and convenient features, it has become an essential part of our family's bedtime routine.
Pros
480 lighting effects with 10 brightness levels
Rechargeable with long battery life
Touch/APP control, alarm clock, and auto timer
Cons
Difficult app setup for some users
Limited compatible alarms
Might be too bright for some preferences
This DOFLER Night Light Projector is a must-have for any child's room, providing versatile light shows and soothing lullabies for a relaxing bedtime experience.
The DOFLER Night Light Projector has quickly become our family favorite, and I'm excited to share why.
Compared to more traditional night lights, this one is different. Instead of offering dim lighting, this night light projects different themes throughout the room, making it one of the best kids night lights you can buy.
The projector offers three different themes, which include stars and moon, sea animals, and a dinosaur world. These have not only captured my children's imaginations but also helped them start developing an understanding of the world. The 17 lighting effects and 360-degree rotation create a truly immersive and engaging experience.
One of the standout features is the inclusion of 9 soothing lullabies. I've found that these songs, combined with the gentle lighting effects, help create a peaceful atmosphere that encourages my kids to drift off into a deep sleep. Additionally, the remote control allows me to adjust settings, such as the volume, brightness, and timer, without having to leave my own bed.
I only had a few minor gripes with this night light. For example, the projector needs to be used in a dark environment to really see the projections. Additionally, the quality of some of the screens could be better and this one is a bit more expensive, but not by a ton.
Despite these minor issues, I still believe the DOFLER Night Light Projector is a fantastic choice for any child's room making it one of the best night lights for kids. Its ability to transform bedtime into a magical experience while also encouraging healthy sleep habits makes it well worth the investment. In addition to offering lighting, this night light also acts as a sound machine, which makes the room even more soothing.
Pros
3 projection themes with multiple patterns
17 lighting effects and 360-degree rotation
9 lullaby songs and remote control
Cons
Performs best in dark environments
Screens could be better quality
Some units received with missing parts
Another one of the best night lights for kids is this Moredig Kids Night Light Projector. It acts very similar to the night light above, with a few small differences.
The remote control aspect of this night light projector has been a game-changer for me. No more getting up to adjust settings, change colors, or switch music modes! With the remote, I can do all of these tasks from the comfort of my bed, which is super nice.
The two themes – cosmic and animal world – are delightful and engaging. My kids love the rotating images, and I appreciate how the soothing music helps to calm them down and prepare them for sleep. The timer function is also great since I can set it to turn off automatically after a specified amount of time, ensuring a dark and restful environment for the rest of the night.
Also, because this is a portable night light, you can take it with you when traveling which is a game-changer. No more sleepless nights while traveling with kids!
However, I do wish there were more options for the light scenes. While my kids enjoy the cosmic and animal themes, having a few more choices would keep the night light fresh and interesting for longer periods of time. Additionally, I have found that the battery life could be better. Although there is a USB cable for continuous power, it would be nice if the batteries lasted longer for times when that option is not convenient.
Overall, the Moredig Kids Night Light Projector has been a fantastic addition to our bedtime routine, and I highly recommend it to any parent looking to soothe and entertain their children at night.
Pros
Remote control convenience
Two engaging themes (cosmic and animal world)
Timer function and soothing music
Cons
Only 2 choices for light scenes
Battery life could be better
Rotation feature may be problematic for some units
I recently got the Lumipets Unicorn Night Light for my children's room, and it has quickly become their favorite bedtime accessory. This cute little silicone lamp not only looks adorable but also provides nine different soft and soothing colors to help my little ones drift off to sleep.
The USB rechargeable feature is a lifesaver for me, as it allows for 12 hours of continuous use before needing a recharge. It interacts perfectly with my children, letting them play around with the night light without the risk of it heating up or breaking.
Although the remote control is a great addition and makes it easy to change colors and set timers, I found that the night light doesn't always work with other USB cords. Additionally, it's a bit disappointing that the charger is not included in the package. I've also experienced some difficulties with the timer feature, as it doesn't seem to be as reliable as I would like.
Nonetheless, as a mom with several kids, I appreciate the Lumipets Unicorn Night Light for its adorable design, soothing color-changing capabilities, and remote control options. If you're searching for the best night light for children, this animal night light is a tremendous choice.
Pros
Adorable unicorn design
USB rechargeable
Remote control with timer options
Cons
Doesn't work with all USB cords
No charger included
Timer feature isn't reliable
I used the One Fire Cute Bunny Kids Night Light for my kids' room, and I am genuinely impressed with its adorable design and safety features. The soft silicone material is kid-friendly, and the battery-operated design ensures no worries about loose batteries. The cute bunny design effortlessly blends into any nursery or bedroom decor.
The light emits a warm glow that has a calming effect, helping my little ones to fall asleep and stay asleep. As a mom, I can't stress how valuable it is to have a night light that can make bedtime easier for both kids and parents. The different colors provide a magical and soothing atmosphere that keeps my children entertained and relaxed during nighttime routines.
Additionally, the portability of this night light is a plus for middle-of-the-night diaper changes and feedings. It's easy to carry around and lasts up to 10 hours, which means it can be an all-night companion for moms and kids. However, the battery requires frequent charging, making it essential to keep it adequately charged and ready for use.
One downside is the lack of a remote control, which limits the light's modes and levels of brightness. Despite this limitation, it's simple to navigate with a tap on the surface for various modes like 7-color changing light mode and standby mode.
In summary, the One Fire Cute Bunny Kids Night Light is an excellent choice to ensure a safe and comfortable bedtime environment for kids. The adorable bunny design, soothing light, and portability make it a fantastic addition to any nursery or kid's room. Just remember to charge it frequently and be aware of the limited modes without a remote control.
Pros
Safe and kid-friendly
Soothing and calming glow
Portable and long-lasting
Cons
Lacks remote control
Battery needs frequent charging
Limited modes without a remote
This star projector night light makes a great addition to any kid's room, offering visual excitement and soothing ambiance.
The projector creates a captivating starry sky, displaying rotating stars and the moon on walls and ceilings. It has helped my little ones overcome their fear of the dark and sleep better through the night.
The night light offers a variety of lighting options, with eight different color modes to choose from. My kids love picking their favorite colors and watching the vibrant stars shine in their room. The rotation feature adds an extra level of excitement, making the starry sky feel more dynamic and engaging. The calming effect of the softly glowing stars and moon help my kids drift off to sleep peacefully.
While the MOKOQI Star Projector Night Light has many great features, there are a few drawbacks. The buttons can be a bit confusing; it takes some practice to learn how to operate them properly. Additionally, if you plan to use the battery option, be prepared to go through batteries quite quickly. However, the night light does come with a USB cord that is more energy efficient and convenient. Lastly, it would have been nice if the night light came with a remote control, making it easier for both kids and parents to control the settings.
Overall, I believe the MOKOQI Star Projector Night Light is a valuable addition to any child's room, providing both entertainment and a peaceful atmosphere making it one of the best night lights for children. Despite its few shortcomings, the pros outweigh the cons, making it a great purchase for parents looking to enhance bedtime routines and provide comfort in the nighttime.
Pros
Vibrant and fun color options
Rotating star and moon display
Calming effect on kids
Cons
Confusing button controls
Battery option not efficient
No remote control
What to Consider When Buying a Night Light for Your Kid's Room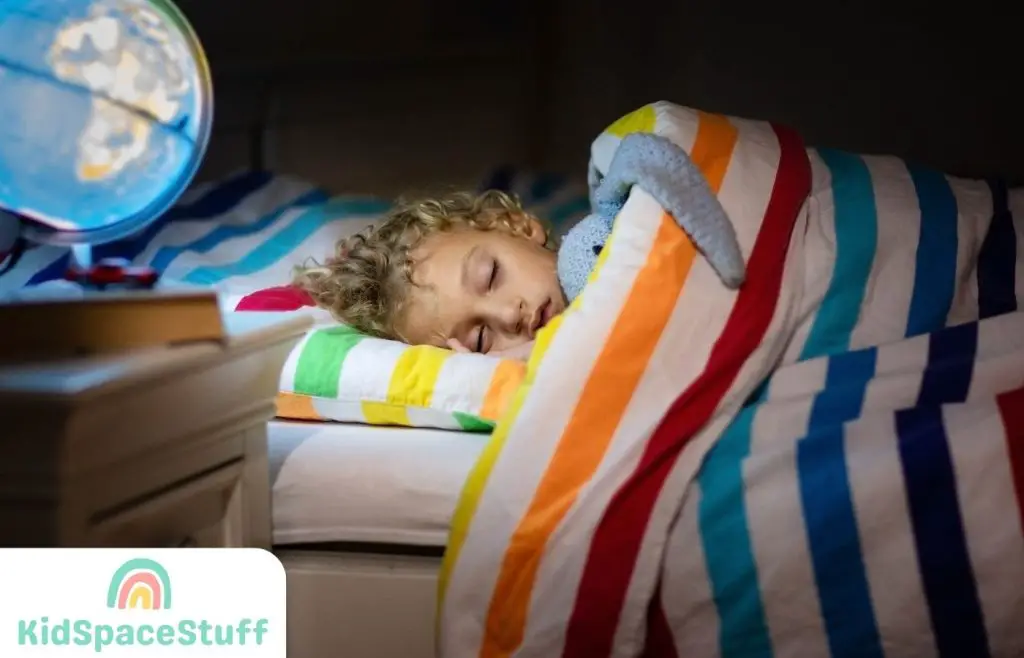 Design, Shape, and Size
The size and design of the night light are also important factors.
Small and compact night lights are often best, as they are less intrusive in your child's space and more easily portable.
The design is largely a personal preference, but remember, this is something your child should find comforting. A night light with their favorite character or in a fun shape can make bedtime a much more welcoming task.
Need some additional help getting your kids to sleep? Check out the video below!
Brightness
When it comes to choosing the best night light – the first thing that comes to mind is brightness.
A night light should offer a gentle glow, bright enough to stave off the scary shadows but not so bright that it interrupts sleep. Our children need a well-regulated sleep cycle for their growth and development, and a glaring light could disrupt that.
You want a night light that features easily adjustable brightness so you don't have too much or too little light.
Power Source
Another aspect to consider when choosing a night light is its power source.
Battery-operated night lights can be a great choice, especially for their portability and convenience. They can be easily moved around the house, taken on trips, or even serve as a source of light during power outages. Moreover, they eliminate the need for cords, reducing potential safety hazards in your child's room.
Always remember to keep an extra set of batteries handy and check the battery life of the night light to ensure it's practical for your needs.
Remote Capabilities
Next, let's talk about remote controls.
Night lights with remote control functions offer an extra layer of convenience. Imagine you've just settled your little one into bed, and as you're tip-toeing out of the room, you realize the night light is a bit too bright. With a remote control, you can easily adjust the brightness, or even switch it off entirely, without disturbing your child's peaceful slumber. Some remote-controlled night lights even offer color-changing options, allowing you to set the mood or satisfy your child's preference without having to enter the room.
Safety Features
Lastly, but critically, safety features are vital.
Night lights that have an automatic shut-off feature provide added peace of mind. This function ensures the light won't overheat if left on for extended periods, keeping little fingers safe and reducing fire hazards.
You can also check out these safe kids room lighting ideas for more inspiration.
Final Thoughts
Night lights can be a staple to any kids bedroom. They can really make or break your night time routine.
Overall, the best night light for kids is the Hatch Night Light. This is the best night light because of its extensive functionalities and capabilities as well as convenience.
KidSpaceStuff is a site dedicated to helping parents find the best interior design, activities, and inspiration for their kids.