Frozen has been a box-office sensation and a significant part of countless children's lives since its debut. Its enchanting storyline, memorable characters, and catchy tunes have firmly planted it into the hearts of many. Naturally, this fascination has spilled over into the world of toys, with kids eager to relive the magic of Elsa, Anna, Olaf, and the rest of the Frozen crew through play. Amidst many options, finding the perfect Frozen-themed toy can be as tricky as navigating through a snowstorm in Arendelle.
In this article, I'll guide you through a curated list of the best Frozen toys for kids, ensuring your choice brings smiles as bright as the Northern Lights. From interactive dolls to imaginative playsets, a Frozen toy out there will be the crown jewel of your child's collection. Let's dig in!
Best Frozen Toys
I recently got the Disney Frozen 2 Musical Adventure Elsa Singing Doll for my daughter's birthday. Seeing her eyes light up when Elsa began to sing was a sight. The doll captures the essence of Elsa beautifully, from her flowing icy blue dress to her iconic blonde braid. Beyond the aesthetics, the musical feature added an extra layer of excitement. Every evening since she got it, I've been treated to duets of Elsa's newest songs – clearly a hit!
Product Features
Sing-along capability with popular tunes from Frozen 2.
Detailed design capturing Elsa's character look from the movie.
Smooth, clear sound quality.
Durable construction, ensuring it lasts through countless playtimes.
Pros
Provides interactive play with a sing-along feature.
High-quality materials and construction.
Accurate representation of Elsa from Frozen 2.
Suitable for a wide range of ages.
Cons
Requires batteries, which are only sometimes included.
The sound might be a bit loud for some parents' preferences.
Limited to only a few songs from the movie.
---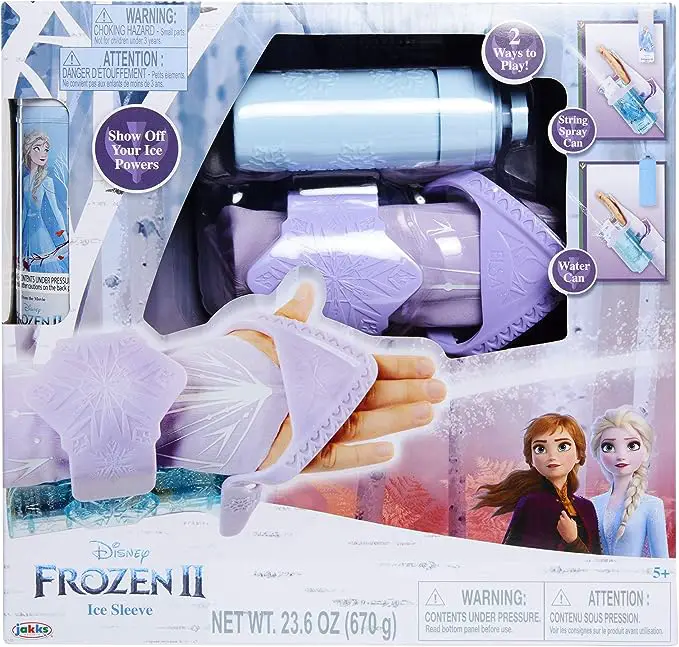 When my child first saw the Frozen 2 Magic Ice Sleeve, her face lit up like the Northern Lights. As parents, we know just how much the "Frozen" series means to kids worldwide; this toy is no exception. This magical sleeve allows children to pretend to have Elsa's ice powers. They can imagine summoning ice and snow with a simple wrist flick, just like in the movie. It's a beautifully designed product with intricate patterns reminiscent of Elsa's Ice Palace, making playtime an enchanting experience.
Product Features
Designed based on Elsa's ice powers from the movie
Easy to wear on the forearm with adjustable straps
Safe for children, made with non-toxic materials
It comes with a magical spray feature to enhance the icy effect
Pros
Encourages imaginative play
Durable and long-lasting
Suitable for children of various ages
Easy to use and safe
Cons
Limited to one hand (right hand only)
It might require adult supervision for younger children
The spray feature can run out and may need refilling
---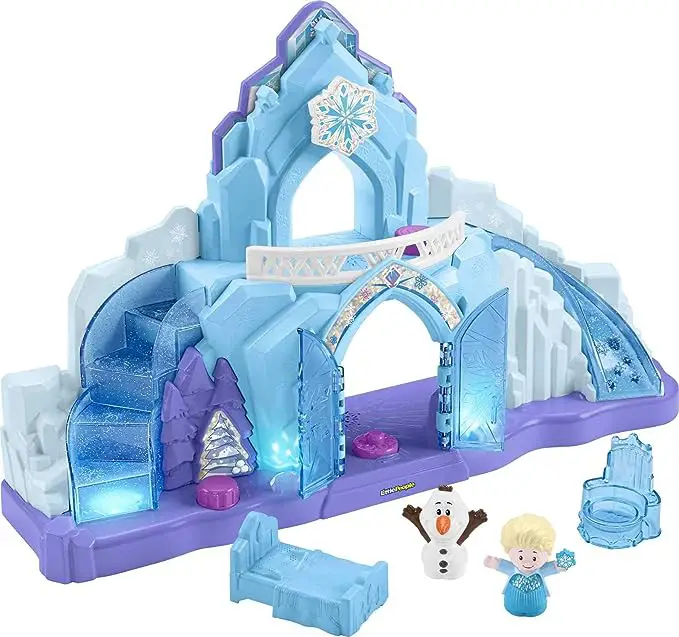 Do you remember the time you watched Frozen and how much you loved Elsa's magical ice palace? Imagine having a mini version of that palace in our living room. The Fisher-Price Disney Frozen Elsa's Ice Palace by Little People is a magical toy. The court lights up in shimmering blues and purples and even plays your favorite Frozen songs. And guess what? A tiny Elsa figurine can glide around her palace, making it seem like she's dancing on ice. This toy not only brings the magic of Frozen to our home but also sparks imagination and creative play.
Product Features
Detailed representation of Elsa's Ice Palace.
Lights up with enchanting colors.
Plays snippets from popular Frozen songs.
Includes Elsa and Olaf figurines.
Suitable for kids aged 1.5 to 5 years.
Pros
Encourages imaginative play.
Safe for toddlers with no small detachable parts.
Durable and built to withstand rough play.
Interactive features that keep kids engaged.
Cons
Requires batteries that may need frequent replacement.
Limited mobility of the figurines.
It might be easier for older kids.
---
Remember the enchanting world of Frozen? The snow, the magic, Elsa's castle? Imagine having a little piece of that world right in our home. The Disney Frozen Pop Adventures Pop-Up Playset brings Arendelle into our living room. With a simple push, the playset pops open, revealing the magical scenes from the movie. It's as if we've been transported into Elsa and Anna's world. This playset isn't just a toy; it's an adventure waiting to happen!
Product Features
Pops open to unveil a detailed play scene inspired by Frozen.
Compact design for easy storage.
Comes with miniature Elsa and Anna figurines.
Playset elements inspired by the movie's key scenes.
Pros
Encourages imaginative and creative play.
Easy to set up and fold away, perfect for on-the-go fun.
Sturdy construction designed for long-lasting play.
Ideal for Frozen fans, immersing them in their favorite movie's world.
Cons
Smaller pieces might be a choking hazard for younger kids.
Limited play elements might only keep older kids engaged for a short time.
Some elements may wear out with excessive use.
---
The magic, her charm, the beautiful snow scenes? The Disney Store Elsa Animator Doll brings a little piece of that enchantment into our home. This doll captures Elsa's youthful look with fine detail, from her sparkly blue eyes to her long blonde hair, every strand of which seems to have its own story. It's not just a doll; it's a magical companion for our little one, ready to join in on every adventure and bedtime story!
Product Features
Beautifully detailed representation of young Elsa.
Comes in her iconic dress, adorned with glitters and fine detailing.
Posable arms and legs for interactive play.
Made with high-quality materials for a soft and realistic touch.
Pros
Captures the essence of Elsa's character from the Frozen movie.
Durable and designed to withstand regular play.
A great gift for any Frozen fan, igniting imaginative playtime.
High attention to detail makes it an instant favorite.
Cons
Glitters on the dress may shed over time.
Hair may get tangled if not regularly maintained.
It might be considered pricey for a doll by some.
---
What to Consider When Purchasing Frozen Toys for Kids
Buying Frozen toys for kids can be a delightful experience. Still, it's essential to choose fun and appropriate toys for the child's age and preferences. It's crucial to ensure the toys are safe, durable, and resonate with many children's love for the Frozen franchise.
Here are some factors you should consider:
Age Appropriateness 
The most vital aspect of selecting a Frozen toy is ensuring it's suitable for the child's age. Toys with small parts can be a choking hazard for younger children, while some toys might be too simplistic or not engaging enough for older kids. Always check the manufacturer's age recommendation on the packaging.
Safety 
Just as with any toy, safety should be a top priority. Ensure the toy is made of non-toxic materials, has no sharp edges, and is constructed to withstand regular play without breaking easily. Toys that light up or make sounds should have secure battery compartments.
Engagement and Play Value 
Different children engage with toys and share it in unique ways. Some might love singing along with a Frozen-themed music box, while others might prefer action figures or dolls to act out scenes from the movies. Choose toys that align with the child's play style and can provide lasting entertainment.
Durability 
Kids can be tough on their toys. Opt for Frozen toys made from durable materials that can withstand the test of time, ensuring that the child can enjoy them for as long as their fascination with Frozen lasts.
Authenticity and Design 
With the popularity of Frozen, many knock-offs and unofficial merchandise flood the market. Buying toys that are officially licensed to ensure they accurately represent the beloved characters and story is essential. This will be more satisfying for the child and ensure you get a quality product.
Here's a great video that shows you more types of Frozen toys.
Interactive Features 
Some Frozen toys have interactive features, such as singing Elsa dolls or Olaf figures that tell jokes. Consider if your child would enjoy these added elements, as they can enhance play but may also have a higher price tag.
Final Thoughts
The magic of Frozen is undeniably everlasting, captivating children and adults alike with its enchanting storyline, mesmerizing music, and beloved characters. From the flurry of Frozen-themed toys available in the market, selecting the best can be a snowstorm of choices. These toys serve as playtime companions and help children immerse themselves in a world of creativity, music, and imagination.
But the "Disney Frozen 2 Musical Adventure Elsa Singing Doll" stands out among Frozen toys. It's a winner in every way because of how lively the music is and how well it gets to the heart of Elsa. More than just a toy, it makes the magic of the movie come to life. The singing of the doll is soothing, and its beautiful design makes it a gift for any child. Thanks for reading!
KidSpaceStuff is a site dedicated to helping parents find the best interior design, activities, and inspiration for their kids.