There are so many kids fishing poles on the market, it's tough to find the best one for your child.
But I've tested several fishing poles to help you find the best one.
In this guide, I'll help you find the best kids fishing rods so you can have a fun day! Let's dig in!
Best Fishing Rod for Kids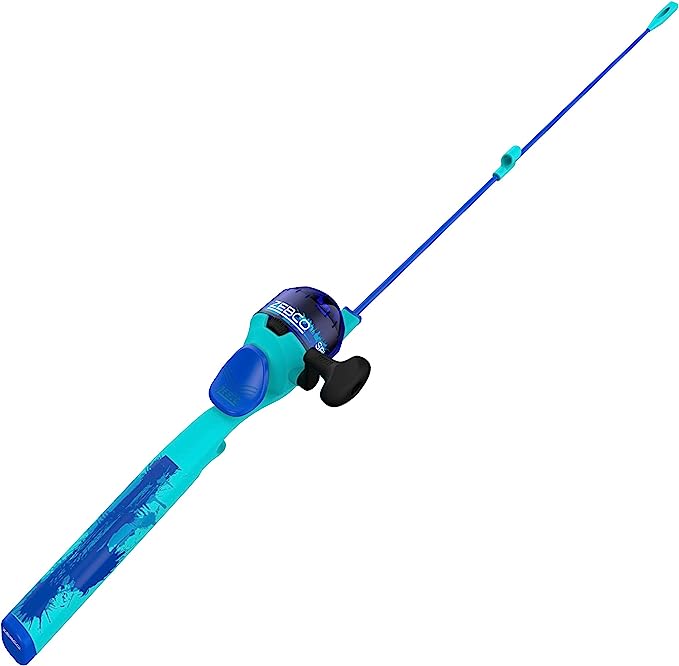 You should consider this combo for your child's first fishing experience as it's easy to use and specifically designed for kids aged 3-5 to enjoy learning.
Pros
Easy to use with its patented no-tangle design
Size appropriate and built with a durable floating fiberglass rod
Comes with a casting plug for practice
Cons
Limited to light power applications
May be too basic for older kids
Right-hand retrieve only
The Zebco Splash Kids Fishing Combo is perfect for introducing your little ones to the joys of fishing. The easy-to-use reel and 29-inch floating rod ensure that your kids will have a blast learning the basics without getting tangled up in knots.
The oversized handle knob and push-button mechanics make it simple for young hands to operate, while the moderate action and light power of the rod offer just the right amount of challenge for new anglers. The pre-spooled reel also saves you time in preparing for your fishing trip.
However, as your child grows and their skills advance, they might require a more powerful combo in the future. But for now, go ahead and create some lasting memories with the Zebco Splash Kids Fishing Combo.
---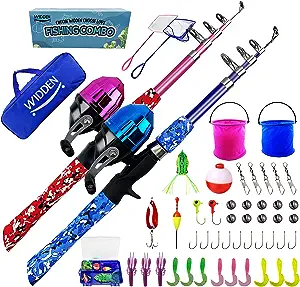 The WIDDEN Kids Fishing Pole is an excellent choice for kids as it combines quality, portability, and ease of use, perfect for budding anglers.
Pros
Full fishing kit for kids
Portable and telescopic design
High-quality materials for durability
Cons
Fishing nets suitable for small fish only
Close adult supervision required for assembly and use
Top of the pole may break after multiple uses
The WIDDEN Kids Fishing Pole provides a complete fishing kit designed for children over five years old. This set includes a telescopic fishing rod, foldable bucket, fishing nets, and various accessories – all packed in a handy backpack for portability.
Thanks to its four-layer fiberglass cloth construction, the fishing rod is durable and resistant to rust and breakage, ensuring a safe fishing experience for the little ones. The spin-cast reel comes pre-wound, so there's no need for extra assembly, which makes it easier for children to start using it right away.
However, some drawbacks to this fishing rod include the small fishing nets, which are only suitable for tiny fish, the need for adult supervision when assembling and using the rod, and the potential for the top of the pole to break after several uses.
Overall, the WIDDEN Kids Fishing Pole is a solid investment for introducing children to the world of fishing, but always ensure to monitor your kids while they're using it to avoid potential issues.
---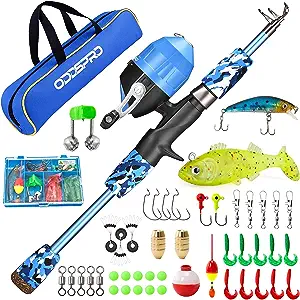 The ODDSPRO Kids Fishing Pole is a great option for introducing your child to the joys of fishing with an all-in-one telescopic rod and reel combo for beginners.
Pros
Complete kit with tackle box for various situations
Easy to use and suitable for different age groups
Portable and travel-friendly with a carrying bag
Cons
Not suitable for more advanced young anglers
Some may find the rod length too long for very young kids
The quality of the included tackle may not impress experienced users
The ODDSPRO Portable Telescopic Fishing Rod and Reel Combos Kit offers a fantastic way to get your child interested in fishing. The set comes with a rod, reel, tackle box, and a portable carrying bag for convenience. The collapsible rod is designed for easy handling by kids, and the kit includes a range of tackle for different fishing situations, making it suitable for children aged 3 to 15 years.
Despite its ease of use, the ODDSPRO fishing rod may not be suitable for more experienced young anglers who may prefer a more advanced setup. The rod length may also feel slightly long for extremely young kids, and the included tackle might not meet the standards of seasoned users. However, as an introduction to the world of angling for kids, this product is highly recommended.
---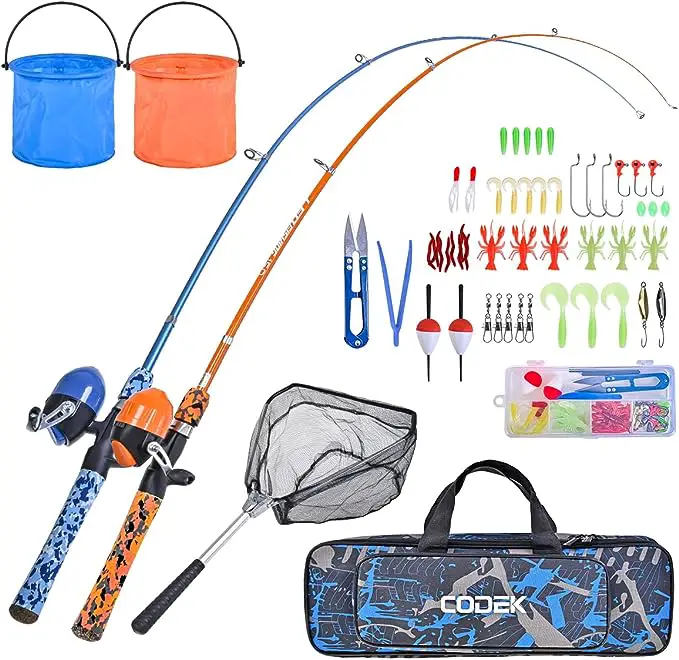 The CODEK Kids Fishing Pole Set is perfect for young fishing enthusiasts, offering a great experience with its all-in-one package.
Pros
All-in-one combo kit for kids
Comfortable grip with camouflage EVA handle
Portable and easy to carry
Cons
May not be suitable for advanced or larger catches
Carrying case could be light for long term use
Reel might struggle with drag
The CODEK Kids Fishing Pole Set offers an incredible value with two sets in the package, each containing a fishing rod, reel, tackle box, travel carry bag, folding fishing net, and two buckets. Designed for kids aged 3-15, this 1.5m/4.92ft fishing rod is perfect for little hands, featuring a comfortable, non-slip EVA handle that ensures a secure grip even when wet.
Making it more convenient, the rod is collapsible and easily fits in car trunks, boats, or backpacks. With the additional carrying bag, transporting and storing the fishing accessories becomes a breeze, allowing your child to take it out effortlessly.
Fishing allows children to connect with nature while learning skills like patience, confidence, balance, and coordination. With the CODEK Kids Fishing Pole Set, you'll be able to create lasting memories with your kids, making it an ideal gift for birthdays and Christmas.
---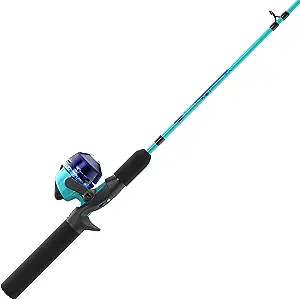 This easy-to-use fishing combo is an excellent choice for kids looking to up their angling game.
Pros
Easy to use with patented no-tangle design
Perfect size for kids aged 6-9
Comfortable EVA foam handle
Cons
May not be suitable for larger fish
Right-hand retrieve only
Limited to 2.6:1 gear ratio
The Zebco Kids Splash Jr. Spincast Reel and Fishing Rod Combo make fishing enjoyable for young anglers. Perfectly sized for ages 6-9, the 4-foot fishing pole features a patented no-tangle design, ensuring a hassle-free experience.
Featuring a casting plug, this combo allows for fun practice on and off the water. With its durable fiberglass construction and comfortable EVA foam handle, youngsters can fish all day in comfort. The moderate-fast action and medium-light power make it suitable for targeting a variety of fish, holding a 2-6-pound line weight and 1/64-1/8 oz lure weights.
The size 20 spincast reel offers smooth performance with all-metal gears and a 2.6:1 gear ratio for easy retrieves. The QuickSet anti-reverse prevents backward handle movement, ensuring a proper hookset. Pre-spooled with 6-pound Cajun fishing line, this combo is ready for immediate use.
Overall, the Zebco Kids Splash Jr. Spincast Reel and Fishing Rod Combo is a fantastic option for young anglers seeking an easy and enjoyable fishing experience.
---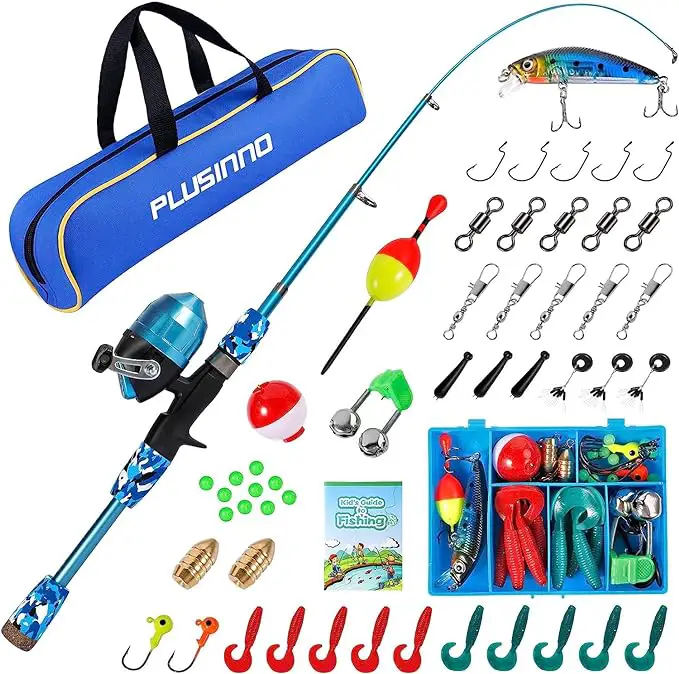 This fishing rod is perfect for kids who are eager to learn fishing, offering a lightweight, easy-to-use experience.
Pros
Lightweight and suitable for small hands
Telescopic design for easy transport and storage
Comes with complete kit for a beginner angler
Cons
Might be too light for heavier catches
May not withstand rough use
Could outgrow as the child gains more experience
The PLUSINNO Kids Fishing Pole with Spincast Reel is an excellent starter kit for children who want to learn fishing. Its lightweight design and telescopic feature make it easy for kids to carry around and store when not in use. The provided spincast reel offers safety for young anglers, reducing the risk of accidents while casting and reeling in.
This fishing rod is designed specifically for a child's small hands, ensuring a comfortable grip and handling experience. The kit comes complete with a fishing line, tackle, and travel bag, giving your child all the necessary gear to start their fishing journey.
However, this fishing rod may not be ideal for catching heavier fish, and its lightweight construction may not withstand rough handling. As your child gains more experience and improves their fishing skills, they might outgrow this rod and need to upgrade to a more advanced one. Overall, the PLUSINNO Kids Fishing Pole with Spincast Reel is a fantastic choice for introducing your child to the world of fishing.
---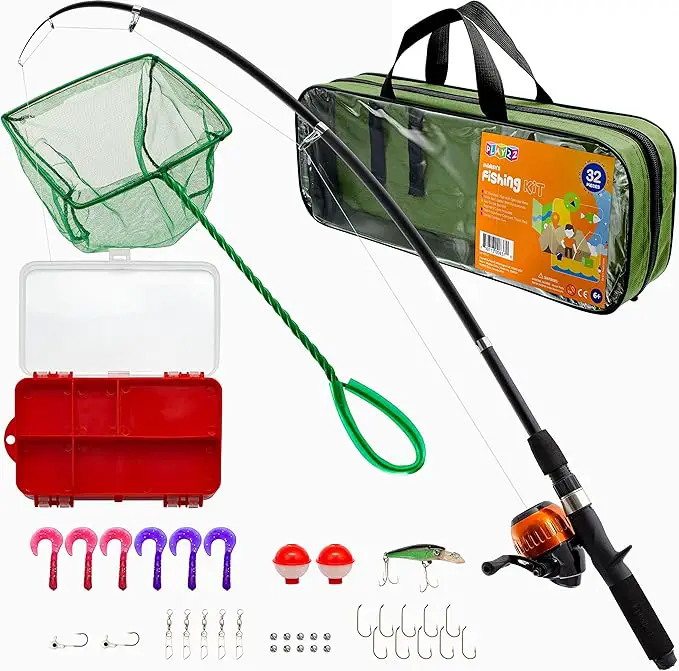 The Play22 Fishing Pole for Kids is a perfect starter set for young anglers looking to learn and have fun in the outdoors.
Pros
Lightweight and easy for children to hold
Telescopic rod with a comfortable grip
Comprehensive tackle box and accessories included
Cons
May be too long for younger beginners
Some accessories are more suited for aquariums
Reel quality could be improved
The Play22 Fishing Pole for Kids offers a 65″ telescopic rod that is lightweight and easy for children to hold. The grip is comfortable, making it convenient for them to learn the basics of fishing. The tackle box comes loaded with various accessories, such as lures, hooks, bobbers, and a bait net, adding extra excitement to the experience.
However, for younger beginners, the rod might feel a little too long, and adult supervision is recommended for the best experience. Some of the accessories, like the net, are more suited for aquariums rather than actual fishing scenarios. Additionally, the reel quality is not the strongest and could be improved for better durability.
Overall, the Play22 Fishing Pole for Kids is a great option for introducing children to the joys of fishing. Despite a few drawbacks, it can undoubtedly provide hours of outdoor fun and an excellent learning experience for young anglers.
---
What to Consider When Buying Fishing Poles for Kids
Rod Length and Material
When it comes to selecting a fishing rod for children, the length and material of the rod are crucial factors to consider.
A shorter rod, generally in the range of 4 to 6 feet, is typically easier for kids to handle and maneuver. This size allows for better control and less fatigue during extended periods of fishing.
On the material front, fiberglass and carbon are popular choices due to their durability and flexibility. Fiberglass is known for its robustness and ability to withstand rough handling, making it an ideal choice for younger anglers. Carbon, on the other hand, offers a good balance of strength and sensitivity, allowing for a more nuanced fishing experience as your child's skills develop.
Reel Type and Gear Ratio
The reel is the mechanism that retrieves the line and plays a significant role in the fishing experience.
For young beginners, spincast reels are often recommended due to their ease of use and simple push-button operation. As your child becomes more adept, you might consider transitioning to a spinning reel, which offers a bit more control and is still relatively easy to use.
The gear ratio of the reel is another important aspect; a lower gear ratio like 3:1 or 4:1 is ideal as it requires less effort to retrieve the line, making it less tiring for young arms. This ratio also provides more torque, which can be helpful when reeling in a catch.
Are you searching for a new tennis shoes for you kids? Check out these best tennis shoes for kids!
Ergonomic Grip and Line Weight
A comfortable grip can make a world of difference in the enjoyment and success of a fishing trip.
Look for rods with an ergonomic grip that fits well in your child's hand, providing a comfortable hold for extended periods.
Additionally, the line weight is crucial as it should match the intended type of fishing. Lighter line weights are suitable for smaller fish and freshwater fishing, while heavier line weights are better for larger fish and saltwater fishing. The line weight rating is usually indicated on the rod, and adhering to this rating will ensure a better fishing experience and prolong the life of the rod.
Safety Features
Safety should always be a priority, especially when introducing children to fishing.
Features like blunt hooks can significantly reduce the risk of accidents, making the learning process much safer.
Additionally, a breakaway mechanism on the rod or line can also be a safety boon, preventing potential dangers if the line gets snagged or caught. Some rods also come with protective covers or hook holders to keep sharp points contained when not in use.
By considering these safety features, you'll be investing not only in your child's enjoyment of fishing but also in their well-being as they learn and grow in the sport.
By taking into account these factors, you'll be able to find the perfect fishing rod for your child to enjoy and develop their skills.
Here's a great video to show you fishing rods for kids in action!
Frequently Asked Questions
What is the ideal fishing rod length for children?
The ideal fishing rod length for children depends on their age and height. For younger kids (around 4-7 years old), a shorter rod of 4 to 5 feet is suitable. If your child is between 8 and 12 years old and has some experience, a 6-foot rod may be more appropriate. Remember that comfort and ease of use should be prioritized when choosing the right length.
What type of fishing pole is best for young beginners?
For young beginners, a simple and easy-to-use spincast reel combo is recommended. This type of fishing pole has a closed-face reel, which minimizes tangles and is easier for children to cast. Spincast combos are generally affordable and reliable, making them an excellent choice to introduce your kids to the joys of fishing. As they gain more experience, you can later upgrade to open-face spinning reels or baitcasting setups.
Final Thoughts
Overall, the best fishing pole for kids is the Zebco Splash Kids Fishing Combo. It's a great fishing pole that can round out your kids fishing gear.
KidSpaceStuff is a site dedicated to helping parents find the best interior design, activities, and inspiration for their kids.